Did you enjoy this chapter? Most everyone likes Christmas. Harry seems to have rather enjoyed this holiday at Hogwarts. However, this chapter isn't only about Christmas. It's also about Harry's discovery of the Mirror of Erised and his feelings for the family that he has never seen.
Before we get into my adopted kids' thoughts about this chapter, I want you to talk/think about a few questions.
Why did Harry enjoy Christmas so much? How do you know he was having fun?
How do you know Harry was having fun?
How was Harry feeling when he found the mirror and saw his family?
If Harry was having so much fun at Christmas, why did he seem so gloomy toward the end of the chapter?
My kids could relate with the sweaters that the Weasleys and Harry received as gifts. We don't give everyone sweaters at Christmas BUT for them the sweaters were a Christmas tradition. We try to have certain traditions around most holidays.
New Year's Eve – We have a small party with close friends to play board games and eat certain snack foods
Easter – We always watch a VeggieTales Easter cartoon. My wife creates small chocolates that are placed in a small chocolate basket. We color eggs and have an egg hunt.
4th of July – We have a picnic before seeing fireworks.
Thanksgiving – We always make pumpkin juice.
Christmas – We always make gingerbread men. We also always have a special time where we set up a nativity and read the Christmas story. We watch a Charlie Brown Christmas Special.
Birthdays – We wake the person up with a song we made up and dog pile him/her. We decorate the birthday person's FACE with icing before having birthday cake.
You might do some of these things in your family too, Why are they special then? These traditions are ways that our family connects and makes memories together. We think that even though not all the Weasleys seemed to enjoy their new sweaters, that they would be upset if they didn't get one. It's a tradition, and it helps to make Christmas feel special.
Even though we have our tradition and spend time with each other connecting, there is still a sad point for all of our kids during any holiday or birthday. If you're a foster/adopted kid, you probably experience this too. Even though you love your adopted/foster family, at some point when you are with your foster/adopted mom, you begin to think about your biological mom. My kids begin to wonder how it would be if their biological mom was laughing with them, making them a special cake, hugging them after opening presents, and so on. Harry experienced the same sadness. He saw his family in the mirror and wanted so bad for his mom to hold him.
Here are suggestions my kids give for dealing with that sad feeling that comes with missing your biological home:
Send your biological parent(s) photos (if possible).
Call your biological mom and/or dad on a holiday (if possible).
Tell your foster/adopted parent(s) that you need to talk about how sad you feel.
Tell your foster/adopted parent(s) that you need a hug because you miss your biological family.
Write down all the things you miss about your biological home.
Draw a picture of things you remember doing at your biological home.
My kids all agreed that even though holidays are a ton of fun, missing your biological home hurts. It's not bad to miss your biological home, and it's good to talk about it. Missing your biological family during holidays is a normal part of an adopted/foster kid's life, BUT you can get through it well with people who care for you.
Now It's Your Turn:
What traditions do you have? Do you have any suggestions for how foster/adopted children can deal with missing their biological families? Be sure to share your thoughts below. Your answers will help other kids and parents too.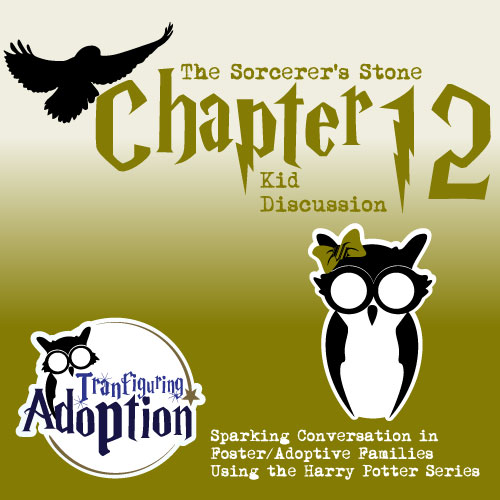 Kids' Discussions:
Ch. 01 | Ch. 02 | Ch. 03 | Ch. 04 | Ch. 05 | Ch. 06 | Ch. 07 | Ch. 08 | Ch. 09 | Ch. 10 | Ch. 11 | Ch. 12 | Ch. 13 | Ch. 14 | Ch. 15 | Ch. 16 | Ch. 17
Parents' Discussions:
Ch. 01 | Ch. 02 | Ch. 03 | Ch. 04 | Ch. 05 | Ch. 06 | Ch. 07 | Ch. 08 | Ch. 09 | Ch. 10 | Ch. 11 | Ch. 12 | Ch. 13 | Ch. 14 | Ch. 15 | Ch. 16 | Ch. 17