This is the part of school that most kids hate – having to go to lessons. Harry Potter is discovering that Hogwarts is going to be as much work as it is fun. During his first week he meets a new adult and reconnects with a friend.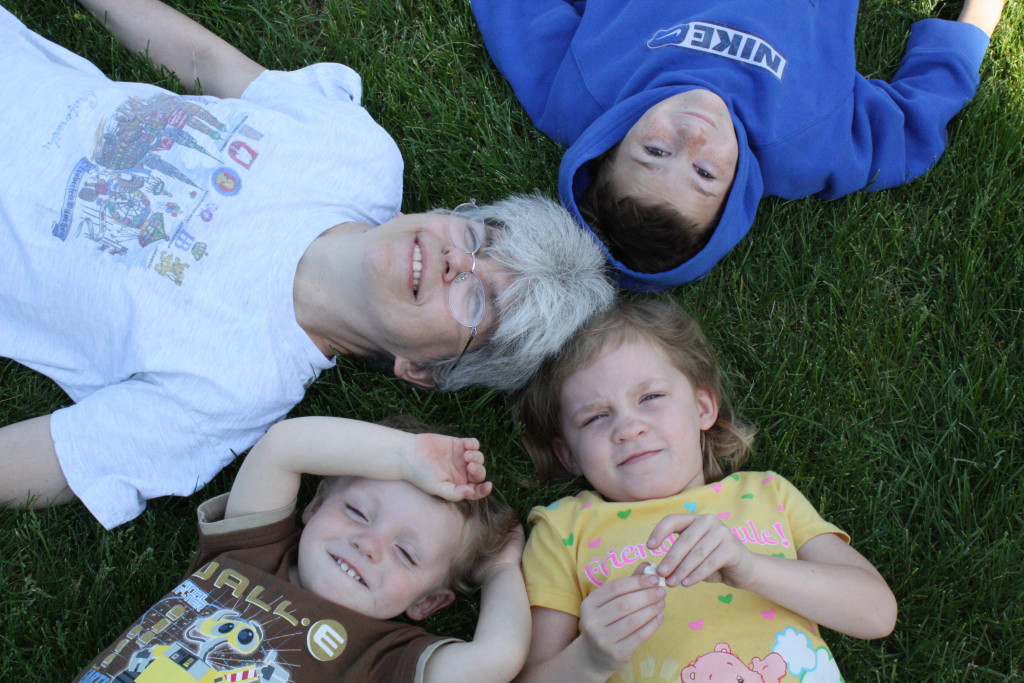 I (Darren) asked my four adopted kids again this week, "What do foster and adoptive kids need to learn from chapter 8?" My daughter quickly began to speak about the difference in character of Professor Snape and Hagrid. Snape was seen as a scary person and was mean to Harry. Hagrid is seen as a gentle and kind person. However, all four of my kids pointed out that Hagrid is probably the scariest to look at.
Hagrid is a half giant so he's bigger than most people. One child reminded us that he knocked down the door of the shack when he first met Harry. He has a large dog that most people would be scared to be with. If Hagrid was in a group of people, he would be the last one that you would want to go home with as your foster/adoptive dad. Snape was merely a man. Maybe he didn't smile very much, but he was less scary than a man who was so large.
Another child pointed out that foster and adoptive children need to take a lesson from Harry in trust. It's scary to go to a new home but sometimes the new home is like Hagrid – it might look scary but actually be wonderful. If you don't trust your foster/adoptive parents, you will miss out on a lot of good times and a lot of love.
I interrupted my kids from telling me about trust because I thought about how hard it was for adults to trust other people sometimes. When some kids have been hurt badly by adults, how can they trust another adult?
Here's the answer from the kid experts:
Foster/Adoptive Parent Homework – The parents need to make sure that they are patient with their new kids. You also need to make sure that you are giving them extra care at the beginning.
Scary Times – Kids need to know that it's normal to be scared. You might not trust your new parents immediately
Be Observant – Do your new parents cook you meals? Do they want to give you hugs? Do they want to spend time with you? Do they give you clothes to wear? Do you have a bed to sleep in?
Make a Choice to Trust – If you see that your new parents are caring for you, you need to tell yourself that you are going to trust them. Again, this might be difficult at first but just keep telling yourself that they aren't going to hurt you like the other adults.
I still was having a hard time understanding how someone could trust another adult when they might have been hit or neglected. The kids all repeated to me that it wasn't easy to trust, BUT you have to do it. You have to eventually let your new parents hug you. You have to talk to them about things that scare you or make you happy. You have to know that they are going to take care of you so you don't have to be the parent anymore. You have to realize that the whole situation is like Hagrid. It might be scary looking but it's the best thing in the world for you.
Now It's Your Turn:
What class would you like to take at Hogwarts?
Which person would scare you more – Snape or Hagrid? Why?
Would you eat rock cakes from Hagrid's hut?
Did adults in the past ever hurt you or leave you? How?
Are your foster/adoptive parents kind like Hagrid or mean like Snape? Why?
Do you think that your foster/adoptive parents will leave you? Why?
What does your foster/adoptive parent do that makes you feel loved?
Help Other Kids:
What would you tell other kids to do to be able to trust their new parents? What ideas or thoughts did you have about this discussion and chapter? We look forward hearing from you in the comments section below.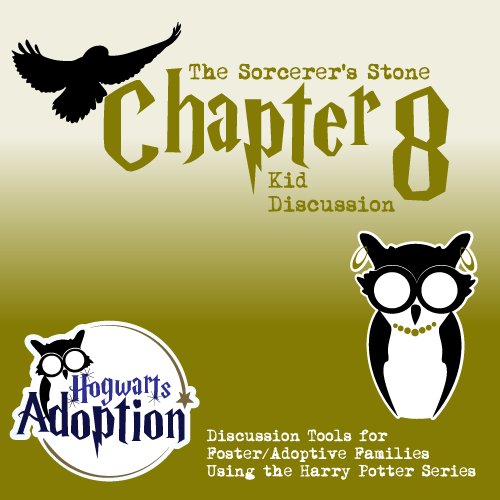 Kids' Discussions:
Ch. 01 | Ch. 02 | Ch. 03 | Ch. 04 | Ch. 05 | Ch. 06 | Ch. 07 | Ch. 08 | Ch. 09 | Ch. 10 | Ch. 11 | Ch. 12 | Ch. 13 | Ch. 14 | Ch. 15 | Ch. 16 | Ch. 17
Parents' Discussions:
Ch. 01 | Ch. 02 | Ch. 03 | Ch. 04 | Ch. 05 | Ch. 06 | Ch. 07 | Ch. 08 | Ch. 09 | Ch. 10 | Ch. 11 | Ch. 12 | Ch. 13 | Ch. 14 | Ch. 15 | Ch. 16 | Ch. 17