Harry Potter Gets Nervous with Game Day Jitters
Wow. We finally got to read about a Quidditch match. I know that the kids in our house either want to be seekers or chasers. I personally would love to try my hand at being a beater.
Our family noticed during this chapter that while Harry was very excited to be picked as a seeker for the Gryffindor team, he was very, VERY nervous about his first game. How do we know this? We saw it in his body language. For example he didn't want to eat at all before he went to the Quidditch pitch.
Foster-Adoptive Kids Have the Same Fears
My kids can relate to Harry. They know what it is like to be nervous. They have been nervous going to a new foster home or moving to their adoptive home. They have been nervous joining a new school because our family has had to move across the states. They know what it feels like to be nervous simply when you have to do something new that you have never done before. For example my oldest son was petrified to go into a store and inquire about getting a job application. There is something scary about not knowing how an event is going to turn out.
Harry had never played Quidditch before in front of a large crowd of people. What if he wasn't any good? What if everyone booed him off the field? What if? What if? What if?
Harry couldn't eat his breakfast because he was so nervous. Seamus didn't help him with all of his talk about Seekers getting hurt during the game.
We all agreed that being extremely nervous about something is a part of life. What do you do to help people when they are nervous?
Hermione tried to get Harry to eat breakfast. Hermione and Ron made a banner to cheer Harry on. In fact the book says that Harry felt braver when he saw the banner.
5 Ways to Encourage Nervous Kids
My kids had some ideas on how they can be encouraged when they're nervous:
Tell a person how great they are
Give the nervous person a hug
Talk to the person about their fear
Let the nervous person know that you're with them and they're NOT ALONe
Pray for them
Now It's Your Turn:
How would you help someone who is nervous?
How should someone help you when you're nervous?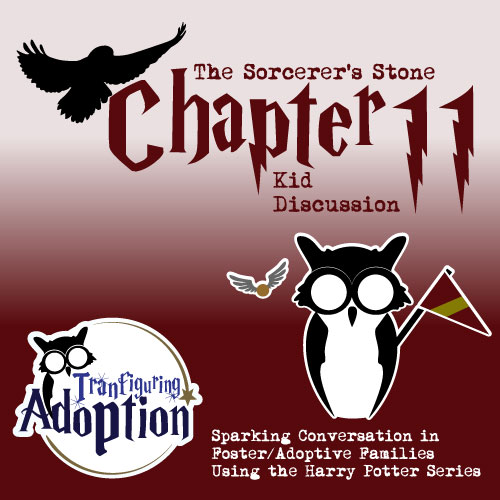 Kids' Discussions:
Ch. 01 | Ch. 02 | Ch. 03 | Ch. 04 | Ch. 05 | Ch. 06 | Ch. 07 | Ch. 08 | Ch. 09 | Ch. 10 | Ch. 11 | Ch. 12 | Ch. 13 | Ch. 14 | Ch. 15 | Ch. 16 | Ch. 17
Parents' Discussions:
Ch. 01 | Ch. 02 | Ch. 03 | Ch. 04 | Ch. 05 | Ch. 06 | Ch. 07 | Ch. 08 | Ch. 09 | Ch. 10 | Ch. 11 | Ch. 12 | Ch. 13 | Ch. 14 | Ch. 15 | Ch. 16 | Ch. 17