---
Before moving from Tennessee to Florida last year (a whole year since we closed on May 4th…so hard to believe!), we sold our dining room set. It had seen 17 years of use and 3 moves but was still in pretty good shape. It was large and heavy, and we decided to sell it rather than carting it across the country and taking up moving truck space. Plus, I wanted something that could more easily seat 10 or more people. That table is now continuing its purpose with a young family whose third child would have been born sometime last year.
When we arrived in Florida, I began a hunt for a large table. I looked at stores first and decided those tables were way out of our price range. Then I searched Facebook marketplace, Craigslist, and such and decided I didn't want to pay those crazy prices either for something used when I was sure I could make something for far less money.
I started with a plan for a farmhouse table designed to seat 10 to 12 people which was provided in a blog at Home Talk (Click here). I made alterations to the length of the table top and to the base. I also did not use exterior supplies as our table was to be used inside in our dining room. As I finished this table going on a year ago, I will try (to the best of my memory) to provide detailed instructions because the link for the original DIY blogger's detailed instructions no longer works. Please read through all instructions first. I will be happy to answer any questions.
---
Materials Needed:
16 – 2x4x10
4 – 4x6x12
wood glue
Kreg pocket hole jig
2½″ pocket hole screws
2½" wood screws
countersink drill bit
wood stain
polyurethane
---
For the Table Top:
First, I changed the length of the table. I used their cut list, but I changed the length of the table to more comfortably and easily accommodate 12 people. (See strike throughs in my cut list for changes.) If my measurements seem odd, it is because I determined to make the table as long as possible for the space available. I had purchased 10 foot 2×4's, and they happened to be 120 5/8 long, so that became the length of my table. The pieces below are cut three inches shorter than their full length to allow for the trim pieces that wrap around the table.
---
Table Top Cut List:
5 – 2×4 @ 105 1/2″ 117 5/8″ each
4 – 2×6 @ 105 1/2″ 117 5/8″ each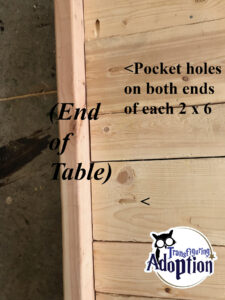 First make your cuts. Lay the 9 pieces of the table top next to each other to ensure you have them all the same length. If you have access to a planer, it will make the table assemble more easily and make sanding easier. Unfortunately, I didn't know about planers before finishing this project! Before assembling the table top, you will want to use a Kreg pocket hole jig to make predrilled holes. You will want to make pocket holes about every 12 inches or so along the sides of the boards in order to screw them into each other. You will also want pocket holes on the ends of the boards and sides of the outside boards to screw the trim on (see picture below).
To begin assembling the table top, you need a very large flat surface. (I used my garage floor, which I discovered is not at all flat, and I blame any imperfections in our table on that!) You will alternate the five 2×4's with the four, long 2×6's. Start on one side, and glue the first two boards together using clamps if you have them to ensure they stay properly lined up. Then screw in the pocket hole screws. Complete for all table top boards.
---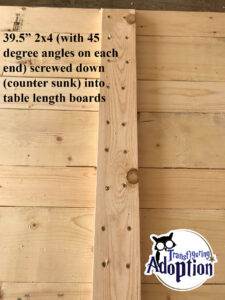 Table top supports cut list:
3 – 2×4 @ 39 ½″ each with each end cut at 45° angle on 2″ side
6 – 2×4 @ 39 ½″ each with each end cut at 45° angle on 4″ side
Once all boards are screwed together, screw (countersink) in the three bottom supports (39.5″ 2×4 pieces) using wood glue and 2½ wood screws. Place one in the middle of the table top and the other two about 16″ from the ends.  
In the picture below to the left, you will see additional pieces of wood screwed into the sides of these supports. We did this to make the assembly with the legs a little easier and more secure. They are the same length as the supports, but the angles are cut on the 4″ side of the board. The legs fit into the slots created, making screwing them in easier and so much safer!
---
Table top trim cuts:
2 – 2×4 @ 108 1/2″ 120 5/8″
2 – 2×4 @ 43 3/16″ each
These four pieces of wood will be screwed around the top to trim out the table. Using a miter saw, cut 45 degree angles on each end. Be careful to check and recheck against the top of your table to ensure they fit together nicely before making final cuts! Use wood glue and pocket screws to attach the trim pieces. We found them to still be a little wobbly, so we also countersunk some wood screws into the outside of the trim to attach it more tightly. We later filled the holes with wood filler and sanded.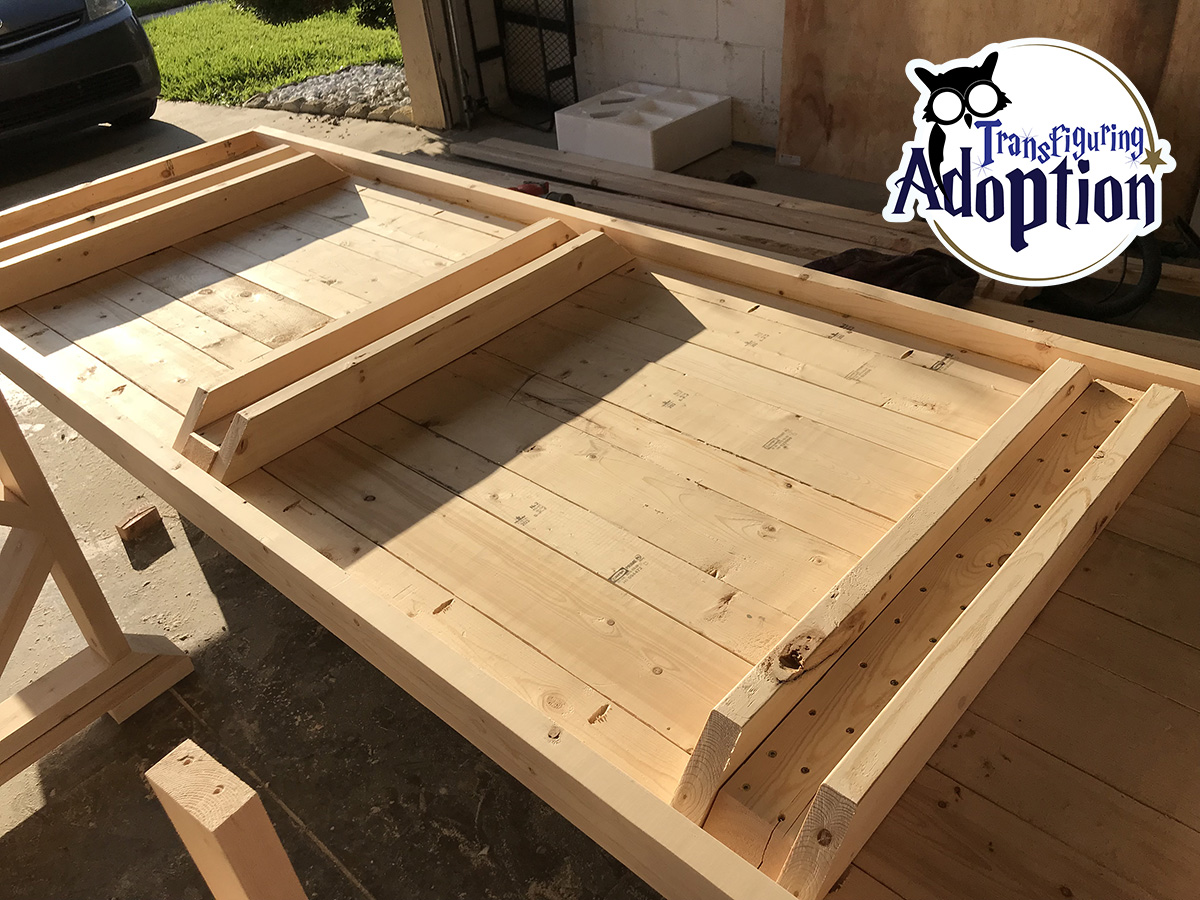 ---
For the table base:
I also altered the base to include 3 legs (one near each end and one in the middle) as opposed to two legs near the ends with supports between. (See strike throughs in my cut list for changes.)
Table Base Cut List:
8 12 – 2×4 @ 17″ each, with each end cut at 45 degree angle
4 6 – 2×4 @ 24″ each
4 6 – 2×4 @ 6″ each
2 4 – 2×4 @ 30 5/16″ each, with each end cut at a 45 degree angle
2 4 – 2×4 @ 33 7/16″ each, with each end cut at a 45 degree angle
2 4 2×4 @ 35 11/16″ each, with each end cut at a 45 degree angle
1 – 2×3 @ 68 1/2″, (cut 2×4 to 68 1/2″, and then rip board down to 3″ wide on table saw)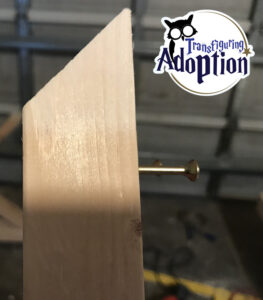 The easiest way to begin assembling the base legs is to start by predrilling holes in the 30 5/16″ about 3/4 from the end of the angles. Then screw wood screws partway in as shown left. 
Stand two of the 24″ boards on the floor and place a 30 5/16″ board on top to form an upside down "U." The longer part of the board should be facing up, and the 24″ boards will be screwed in just next to the angles. Once this is complete, screw the 33 7/16 piece into the 30 5/16 piece making sure to line up the angles on both ends. If they don't create a smooth surface, you will fix it in the sanding process.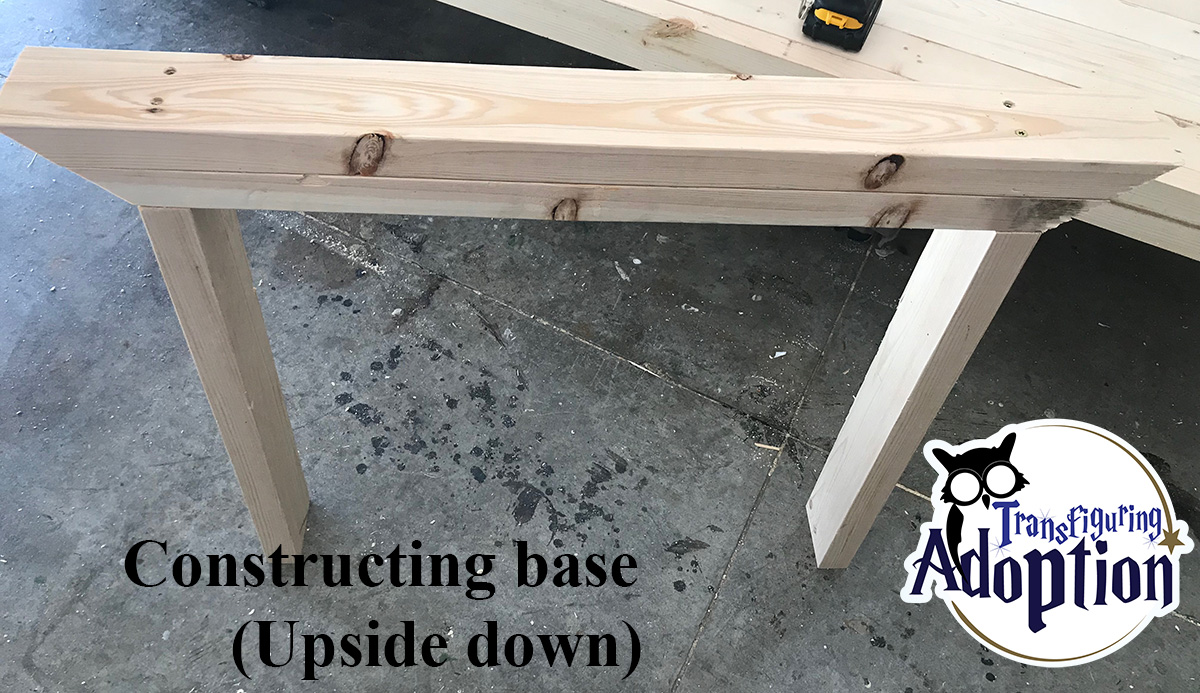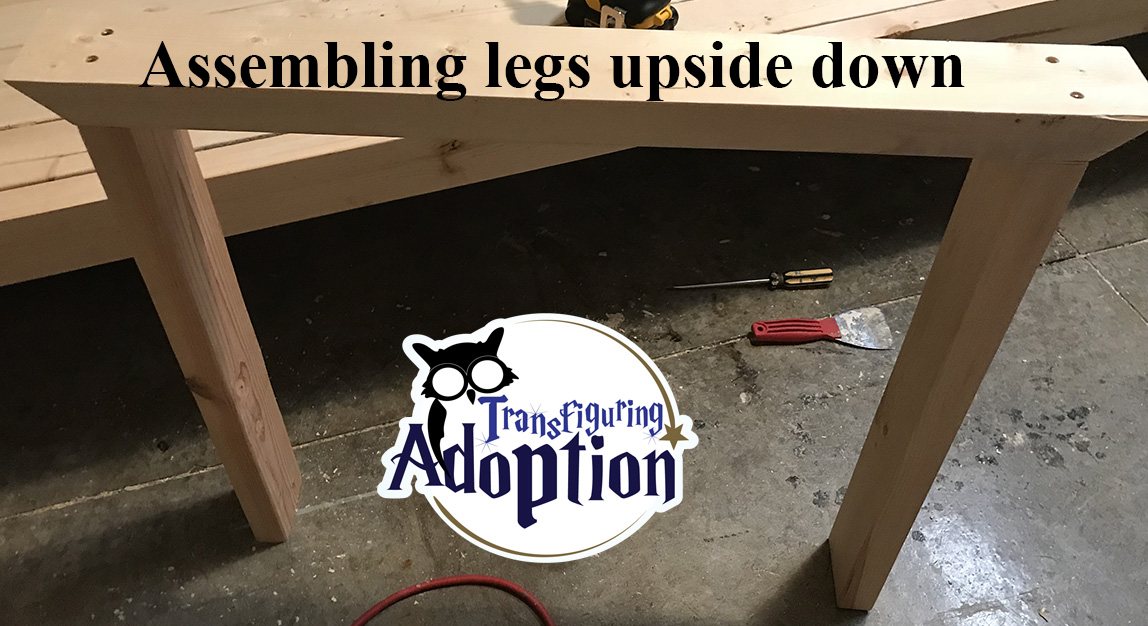 Next, screw two 6″ boards on the ends of the 33 7/16″ boards so that they are flush.  Finally, you will want to create the diamond supports in each base leg. It's helpful to have two people to first line up the two bottom pieces and have one person hold them in place while the other screws them in using wood screws and countersinking them. Then simply line up the top pieces and screw them in. Repeat this process for each of the table three legs.
---
Finishing Touches:
Sanding and finishing this beast was a long process that we probably skimped on too much in an effort to just get a table made our family could eat at in our new home. I wish I had sanded the wood a bit prior to assembly, which would have helped a bit as well. And a planer would have been a fantastic tool to have!! I also now wish I would have put some clear caulk between the table top boards. I tried to fill the gaps between boards with the polyurethane, but it didn't quite do the job, so food gets in there.
Fill in any screw holes with wood filler, and then sand the top and base pieces. Stain to your desired color. Then finish with polyurethane following the directions on the can.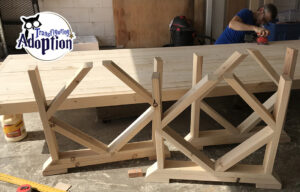 ---
Assembling the Finished Product:
It took our entire family (all 6 of us) working together to assemble this table. The top alone was crazy heavy, and it would not have fit well through doors fully assembled, so we brought the legs in separately from the top and assembled it in place in the dining room. I predrilled holes in the four parts of each leg that would attach to the supports. They were predilled at an angle on the straight parts of the legs, and I predrilled straight down in the diagonal parts of the legs. Basically, it took Darren and all four kids holding the table top while I got underneath to line up the legs. Then we all held it steady while Darren screwed it all in.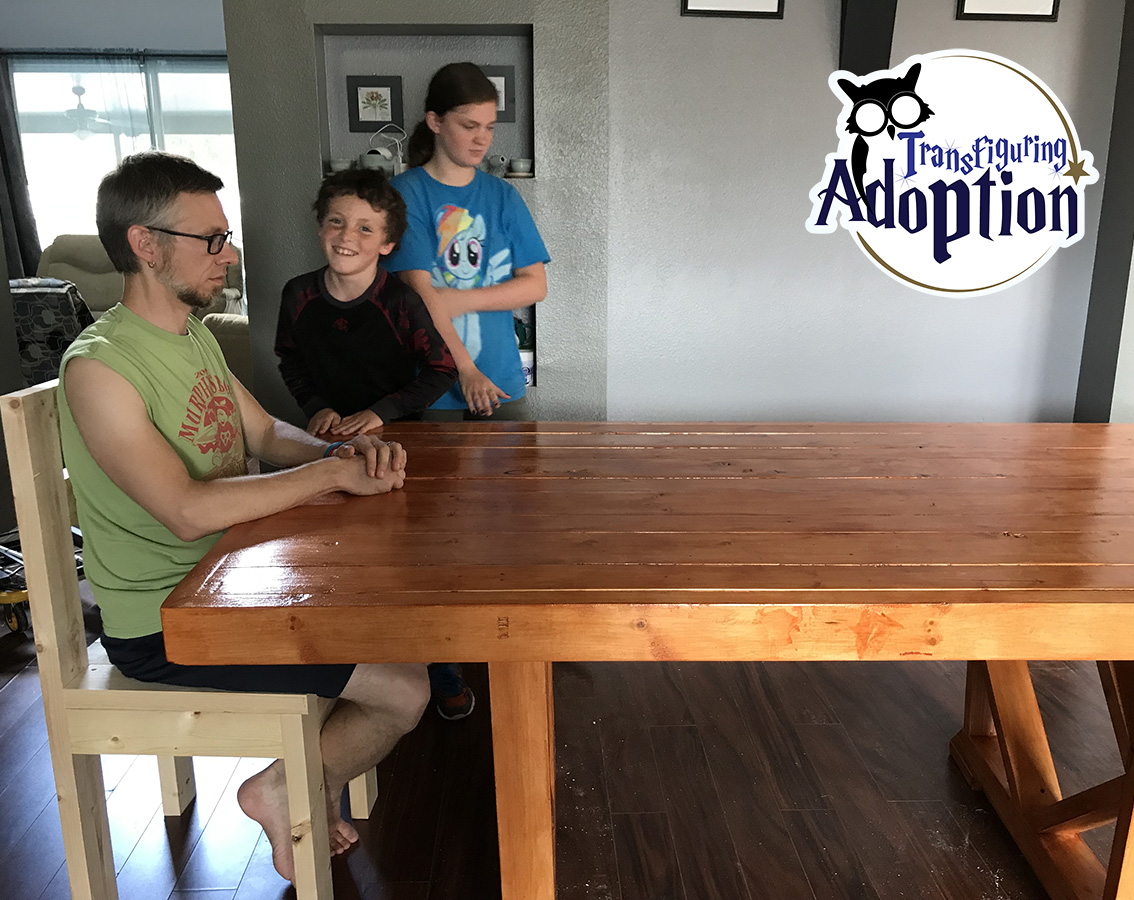 ---
See my next blog on building the chairs to see the fully finished product!
---