Does it make anyone else nervous when Harry is at the Dursley's house? You just never know what horrible thing Uncle Vernon and Aunt Petunia will cause to happen to Harry. When the Weasleys appeared, our family all breathed a sigh of relief. Somehow we knew Harry would be okay.
What did you think of Ron's house? We had so much fun learning about the house. Would you de-gnome the garden with the brothers? I think mom, Margie, would love the self-washing dishes. Like Harry, we thought the whole home was fascinating. What did Ron think?!
"Ron thought his house was trash" – The Fink Kids
Why didn't Ron think his home was great?
"He lived around it so long that he forgot what he had." – The Fink Kids
The best part of this chapter is that there was nothing really for Harry to feel upset about. He got to have fun learning about this wizarding home.
Instead of talking about something serious, we wanted to just have some fun talking about all the homes we have lived in and what we liked about them. Our kids alone have lived in several different homes with various families. As the Fink family, we have lived in three different homes at this point.
 Foster Care Homes:
When you're in foster care, it can be a little like going on a long vacation. If you have ever stayed in a hotel, it's exciting to first go into the room and see how it's decorated and what's in the room. It's neat to discover the new things in a foster home and see how it's decorated.
"I liked [a foster dad's] house with all of the pictures on the walls. I liked looking at the pictures."
Some houses offer new experiences.
"This one house we got to go fishing at the pond that was just down the hill."

"I liked this old lady's house that looked like a log cabin on the outside but beautiful on the inside. I liked the frogs outside. The frogs would get into the house and were sometimes in the toilets."
Illinois Home:
Our Illinois home was quite special because it was where our family was formed. Right before any of the kids were adopted, we all planted a sapling. As our family grew closer together, the sapling began to grow stronger and turn into a tree. We also gutted the home and remodeled it so that everyone had their own bedroom. It was truly a building that represented our family.
"I liked it because I shared a room with my sister, [when we first moved into the house.]"

"I liked the slippery [hardwood] floors and the trees we could climb. There were also two [faux] columns [in the living room] that I could sit on."

"We had an upstairs and downstairs. The house looked small outside but big on the inside. It was also easy to cut the grass, [because we had such a small yard]."

"The Illinois house had a front [enclosed] porch with screens so you could watch the rain without getting wet."
Tennessee Homes:
So far in Tennessee, we have enjoyed two very different homes. One was in a gorgeous rural area of Tennessee right outside of Knoxville and within view of the beautiful Smoky Mountains and Watts Bar Lake. The home was next to Whitestone Country Inn, which incidentally does a great job at celebrating adoption anniversaries.
"I liked the woods [surrounding the house] and you could go out and play in the trees."

"I like the high [second story] back deck and you could see deer sometimes [in the yard right by the house]."

"This house was my favorite. It was easy to cook cookies and stuff in the [large] kitchen. You could also lay down and rest on the deck and listen to birds."

"It [the house] had a great [big] living room for us to build forts out of pillows."
With a new job came a new house in the city. While this home lacks the wildlife and natural beauty, it offers social benefits. There are more homes in a neighborhood in the city and living by a cul-de-sac is a good place to meet friends for playing games and sports.
"I like how many people live here and my friends. I also like seeing all the bunnies that run around. I also like the huge family room."

"It has stairs that lead us to our nice rooms and the family room upstairs."
Now It's Your Turn:
What would you enjoy the most at Ron's house?
What is your favorite house you have lived in?
What made it your favorite home?
What would your dream home look like?
What would be inside your dream home?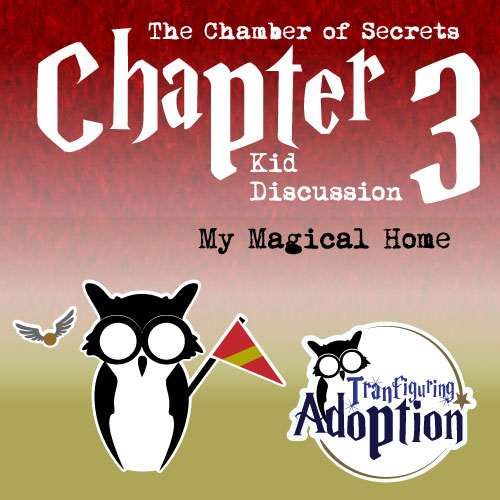 Kids' Discussions:
Ch. 01 | Ch. 02 | Ch. 03 | Ch. 04 | Ch. 05 | Ch. 06 | Ch. 07 | Ch. 08 | Ch. 09 | Ch. 10 | Ch. 11 | Ch. 12 | 
Parent Discussions: