In Chapter 2 we are introduced to Dobby the house elf. This is Harry's first encounter with a house elf, and he seems quite perplexed by this strange creature and its odd behaviors and responses to the way Harry treats him. As I read, I began to mull over some of Dobby's behaviors and responses, even his life, as compared to the behaviors, responses, and lives of children in foster care.
How are foster children like Dobby the house elf?
Dobby cannot believe how well Harry treats him. His experience with wizards has been very negative up until this point. Foster kids' past experience with caregivers, in or out of the foster care system, may have been negative or limited. They may not know how to handle what others would consider 'normal' treatment of a child. They may be used to being the adult or caretaker even as a young child, or they may be accustomed to being hurt. Dobby loses it when Harry treats him as an equal and not as a lesser being there only to serve wizards. Similarly, foster and adoptive children may act strangely and create chaos when treated as a child should be treated.


---

In the midst of their confrontation, Dobby begins punishing himself because he says he almost spoke ill of his family. He feels his loyalty being torn between the family he comes from and this young boy he adores. Foster children are often caught between two homes, two families, both of whom love (or should love) them. They can feel guilty or like they are being disloyal to one household by loving the other. It can be a very confusing and tough situation for them to be in. They may act or be angry or exhibit other emotions as they consciously or subconsciously struggle through these feelings.


---

Dobby calls himself "bad." Children from rough beginnings come to foster or adoptive homes with all types of labels, some which they've assigned themselves and others which they've been called repeatedly by adults. Two of our children came to our home with preconceived notions of who they were: one was "stupid" and one was "bad." In an everyday conversation it even came up that one of the children thought it was his fault that the kids were removed from their biological home. As foster and adoptive parents, we often have our work cut out for us as we try to erase these self (or other) imposed labels from our kiddos.


---

House elves must be "set free." They are bound to the family they serve, as a foster child is bound to the child welfare system as a ward of the state until they achieve permanency, whether that means they are reunified with their birth family, find another permanent home, or they age out of the system when they become adults. What a helpless feeling!! Furthermore, being bound to the foster care system can have tragic results. History has taught us that servants who are set free most often do not have the skills needed to make a life for themselves, and they have scars from their experiences while bound to their masters. For the tens of thousands of children who are set free by aging out of the system each year, their futures look bleak without the familial support system young adults need. Around the country, organizations like the Jim Casey Youth Opportunities Initiative are working to improve the situation for emancipated youth.
  

---

I chuckled at Dobby's use of manipulation to try to get Harry to not want to go back to Hogwarts first and his later outright bad behavior used to frame Harry. Again, I thought of our kiddos and others from traumatic backgrounds. You find children who may not be able to read or write, children who may have multiple disabilities, but yet they have the street smarts of an adult and the ability to manipulate situations to their advantage. In the moment, as the caregiver and target, it is easy to be overwhelmed with anger and hurt as I'm sure Harry feels toward Dobby by the end of chapter 2. Dobby's actions have seemingly cost Harry Potter everything important to him. The difference here between the house elf and the hurt child is that Dobby knew exactly what he was doing and why.
For the foster or adoptive child, it's a bit more complex. Sometimes they know what they are doing is wrong, and other times they do not. They often do not have a good moral compass because their behaviors in the past produced inconsistent consequences or no consequences at all. Also, their situations have caused them to be in survival mode, doing what needs to be done to make sure their own basic needs are met. They can be unbelievably cunning and charming.

---
Dobby's character is one that many Harry Potter fans come to love throughout the books. He rises above his circumstances and does great things. Oh, how I hope for the same for all children from rough starts!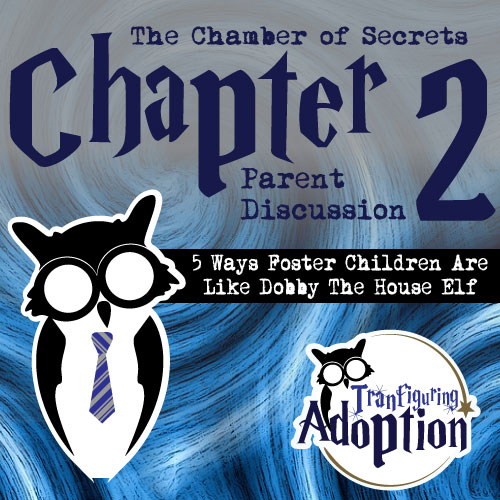 Parent Discussions: 
Ch. 01 | Ch. 02 | Ch. 03 | Ch. 04
Kids' Discussions:
Ch. 01 | Ch. 02 | Ch. 03 | Ch. 04 | Ch. 05 | Ch. 06 | Ch. 07 | Ch. 08 | Ch. 09 | Ch. 10 | Ch. 11 | Ch. 12 |