The Chamber of Secrets begins with a chapter entitled "Worst Birthday." Harry Potter is to spend his birthday not receiving any cards or presents and in fact is told he will be spending the night in his room pretending that he does not exist as his aunt and uncle entertain guests. Harry felt a loneliness worse than any he'd ever experienced before. While his friends were off with their families, and his family dines on a delectable dinner with a beautiful dessert awaiting them, Harry sits alone with a measly couple pieces of bread digesting in his mostly empty belly.
"Like Harry, foster children may see their peer's extravagant birthday celebrations and long for just a small bit of recognition."
Once while perusing online I stumbled upon a counter that was ticking away missed birthdays of children in foster care for the year. The number was staggering, and while I've not been able to find it recently during searches, it left a lasting impact on my heart. Just like Harry, children in foster care or institutions are not experiencing a normal childhood, and many have NEVER experienced a birthday cake or party, playing in a little league sport, having sleepovers, or other activities that we deem a 'normal' part of growing up in a first world country. They may have to move homes right before their birthday and not have friends in their new neighborhood/school yet. Their caregivers may not have the money to provide a party or other special birthday activities, especially if they just moved into the home in the last month or two. Like Harry, foster children may see their peer's extravagant birthday celebrations and long for just a small bit of recognition. Several agencies around the country exist to try and help foster kids have 'normal' birthday experiences, such as a "party in a box" that the foster parents can use. We highly recommend if you are a person who would like to help kids from hard places but who cannot provide a home for them, volunteer or donate time or money to help make a foster child's birthday special.
"For children who are in foster care or adoptive homes, birthdays are often painful and filled with memories of the families they are separated from."
For children who are in foster care or adoptive homes, birthdays are often painful and filled with memories of the families they are separated from. Kids may act out, sabotage, or withdraw on their special days. They may or may not have birth family contact on their birthdays, which may or may not result in different behaviors. For foster children, upcoming birthdays are part of their future, something scary and unknown. Our daughter used to always ask questions about future holidays and birthdays and make requests for them. For years, we were unable to make promises and were stuck saying things like, "Well, if you're still living in our house on your next birthday…"
5 Considerations for Your Foster or Adoptive Child's Birthday
Find out what traditions or events typically took place in the child's birth family on birthdays. You may be able to incorporate some or all of them into the celebration in your home to make the child feel more comfortable. For example, if the child normally got to select a favorite dish to be prepared for dinner, and it's a dish you can make or get a recipe for, this is something within your control to make happen.
Create traditions special to your home and family. 

We have two crazy birthday traditions that started shortly after the kids all moved in. We're not even certain how they began! One is that we all wake up the birthday person with a song that Darren made up to the tune often used in restaurants to sing birthday songs.


"Happy, happy birthday from all of us to you; Happy, happy birthday cause we all love you. Happy, happy birthday, don't think that we're rude; Happy, happy birthday cause we're all gonna pile on you!"


This is followed by everyone dogpiling the birthday person, usually with mom or dad providing a buffer layer over the child so they don't actually get squashed!

The second tradition takes place after we sing happy birthday and eat cake in the evening. We always decorate birthday cakes with decorator icing with the different throw-away tips. We use the leftover icing to make 'icing faces' on everyone who wants one. [Think face painting but with icing!] This is messy, tasty, and hilarious. Somewhere along the line, the icing also started being used for arm tattoos and for 'caterpillars' on fingers. The caterpillars in mom's opinion are just an excuse to put icing on fingers and put them straight in mouths!
 

Also, consider whether or not there will be birth family contact on your child's birthday and prepare for it. This will look different in all households. If a child is still in foster care, they may have a visit on their birthday or near the date. If possible, it's a good idea to find out what gifts the birth family is giving and what activities they may have planned. This way you won't get the same gifts and you can consider being careful not to upstage what the birth parent has planned.If a child's parents no longer have visitation rights, contact is likely up to your discretion. You determine whether it is safe for a bio parent to come along to a party or have a birthday phone call. We no longer live in the same state as our kiddos' birth families, but we plan that they will likely have a phone conversation with their moms, or we'll at least be relaying Facebook messages to the kids and sharing some photos. We know how this will affect our kids (some not so much and one negatively) and plan accordingly what we need to do to be prepared.
Sit down beforehand with your child to see what the child's expectations are. Some of the worst situations evolve from unmet expectations. You and your child should have a heart-to-heart and come up with realistic expectations for the special day. See what they would like to happen to determine if you can make it happen, and let them know what will likely go down on their birthday. This would also be a good time (while everyone is calm and bonding) to discuss and role play appropriate responses for when we are disappointed, things don't go as planned, or our expectations are not met.
Bonus: Help them make their birthday history.  In my last blog, I focused on how important giving our children photographic and written history is. If you like scrapbooking, you could make a little scrapbook of pictures from their birthday. You could keep cards in a keepsake box and maybe jot down some notes of who the people are to them right now, so they'll have a frame of reference for the future. You may consider writing down some stats: likes and dislikes, height, weight, etc. You could easily create video montage using software on your smartphone and put it on a thumb drive for your child.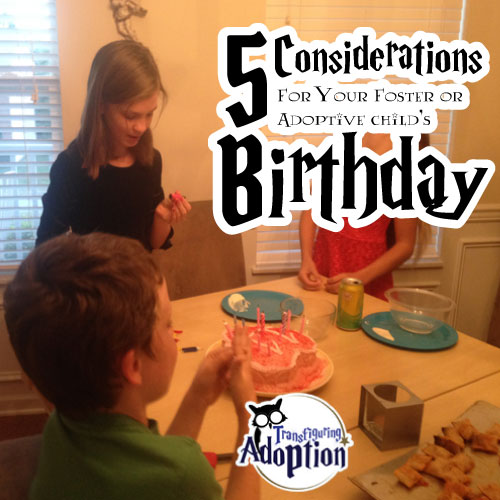 Parent Discussions: 
Ch. 01 | Ch. 02 | Ch. 03 | Ch. 04
Kids' Discussions:
Ch. 01 | Ch. 02 | Ch. 03 | Ch. 04 | Ch. 05 | Ch. 06 | Ch. 07 | Ch. 08 | Ch. 09 | Ch. 10 | Ch. 11 | Ch. 12 |