Red Oven Pizza Bakery
click here for more information
click here for menu
First Impressions
Even though we live out of state, this hasn't been our first time walking past Red Oven Pizza Bakery. The restaurant is one of the first establishments that you see as you walk into the CityWalk area of Universal Studios. Due to its location on the main walkway, the restaurant always seems to be buzzing with activity and alive with the atmosphere of the surrounding crowd and music.
An Adoptive Family's Journey
When you walk up to the pizzeria, your group will notice plenty of lighting on an outdoor seating area. Further on is the kitchen and que area where all of the magic happens. The menu offers several options of unique varieties of pizza. I would say there are pie flavors for the adventurous and some on the tamer end.
Since we have a large family (4 adopted kids, 2 parents – and 2 grandparents on this trip), I often am concerned about the wait time in an amusement park. We all have our patience limit, and children have a shorter limit than adults. Kids with special needs can have an even shorter limit. I was worried when our family walked up to the pizzeria and saw Reserved signs on multiple tables.
It appeared that a staff member was holding back a line to get into the kitchen area. I took this as a que line and quickly got our family in line. We took in the great ambiance for a few minutes. I then decided to ask the hostess about the procedure of eating at Red Oven Pizza Bakery. After all, it was our first time visiting the pizzeria, and I actually had no idea if we were in a line or just behind a group of tourists that were gawking about.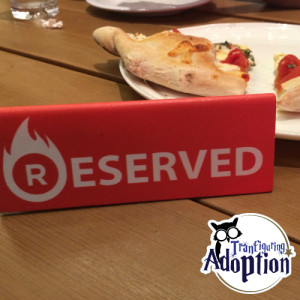 Once I alerted the hostess to our presence, she was all smiles and very friendly. She walked us through the process.
The hostess would walk us into the kitchen area when space became available.
Our party would make their order at the register.
Once we received our drinks and a number for our table, a new hostess would get us to a seat.
The Reserved signs on the tables were actually used to get customers tables so that the general walking public didn't just decide to rest at a table and take all the seating from paying customers.
A waitress would bring us our meal.
The Service
Cooks
While waiting for your order to be taken, you can actually watch the pizza crew's talents in tossing pizza crust. The cooks were friendly, all smiles and answered any questions we threw at them.
Cashier
The cashier took our order quickly and was patient with our kids. She also helped us to make some last minute decisions about our flavor and topping choices.
Waitresses
The wait staff were a blast. They were full of personality, and we had so much fun joking around with them. They were also alert to our needs.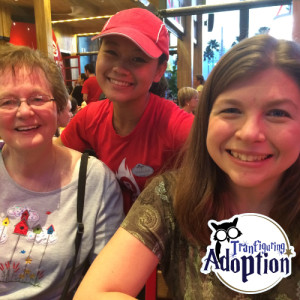 The Pizzas
We ordered a Margherita and Big Eye Pepperoni pizza.
"Margherita: fresh buffalo mozzarella, basil, San Marzano tomatoes, organic extra virgin olive oil"

"Big Eye Pepperoni: San Marzano tomatoes, mozzarella, large pepperoni"
The pizzas tasted fine. There was adequate sauce, toppings and cheese on the pies. However, we would say that there was a bit too much crust without toppings around the edge for our taste. The kids wanted seconds. Most parents know that kids are finicky about foods which are presented in "fancier" presentation. Again the taste of both pizzas was good – we wouldn't say that it was above average though.
General Overall Thoughts
Staff: A
Our group felt a bit like we had to try too hard to get the initial attention of the staff BUT the rest of the process was top notch.
Cleanliness: A
Our table and chairs were wiped down. The kitchen area looked tidy. The surrounding outdoor grounds were clean and well-kept.
Pizza Taste: C+
The major aspect to report on here is the taste. The presentation was great. The taste was good but not so exceptional that you will remember it after vacationing at Universal.
Overal Score: B+
The restaurant was clean. It had a good selection of pizzas and drinks, and the restaurant is priced comparatively well for a family wanting to eat in the park. Lastly, the atmosphere and attitude of the staff made this a fun place to eat.
Adoptive and Foster Family Tips
Sensory Processing Issues
While we had a great experience here, this restaurant could potentially be a foster or adoptive parent's nightmare. Why?! The excitement and buzz of CityWalk provide a fun ambience for the pizzeria. However, the same noise might be overwhelming for some kids from hard places.
I noticed that our 8 year old son was enjoying himself. Every once in a while he would cover his ears to dampen the surrounding noise. Our son does have sensory processing issues. He does well with noises and is relatively mild. However, if the noise is bothering him, I know it will bother other foster or adoptive children who are more severe on the scale.
Our suggestion is to prepare your child for the noise and all the excitement that is going to bombard their senses while eating at Red Oven. Even better yet, you may just want to eat at another restaurant on the park grounds if your child has sensory issues.
Food Texture
In our opinion most children will not have issues eating here. As long as your foster or adoptive child will eat pizza, you should be fine.
What Do You Think?
Comment below and let us know what you think of Red Oven Pizza Bakery. Also, let us know if you have any tips for eating here with foster and adopted children.