Last week our daughter turned 13. As birthdays go, this is one that is usually considered a rite of passage. A child becomes a teenager and begins young adulthood. So what did last Tuesday night look like at our house? Well, it was a typical Tuesday night, which means we rushed dinner and dashed off for the kids' equine therapy. You may think that a child would hate to spend her birthday night at therapy, but on the contrary, equine therapy is the highlight of most any typical week in our children's eyes.
What is EQUINE THERAPY? What makes it so special?
Well, equine therapy, or EAP (Equine Assisted Psychotherapy), is a type of therapy which uses interaction with horses to meet therapeutic goals. EAP can have benefits which actually can combine results from multiple types of therapies into one as there are 1) physical benefits, such as those gained from occupational and/or physical therapy programs; 2) psychological benefits, such as those experienced from psychotherapy; 3) educational benefits, such as those which may be attained through tutoring or educational games, and 4) social benefits, such as those obtained through life or social skills training programs.
The benefits are many, but probably our favorite is that the kids don't feel like they're in "therapy." They're having fun. They're gaining skills and building confidence. They're doing something that other children do: simply grooming a horse and going horseback riding. They play fun games with the horses and therapists, and last Tuesday, they all sang "Happy Birthday" to Jasmine!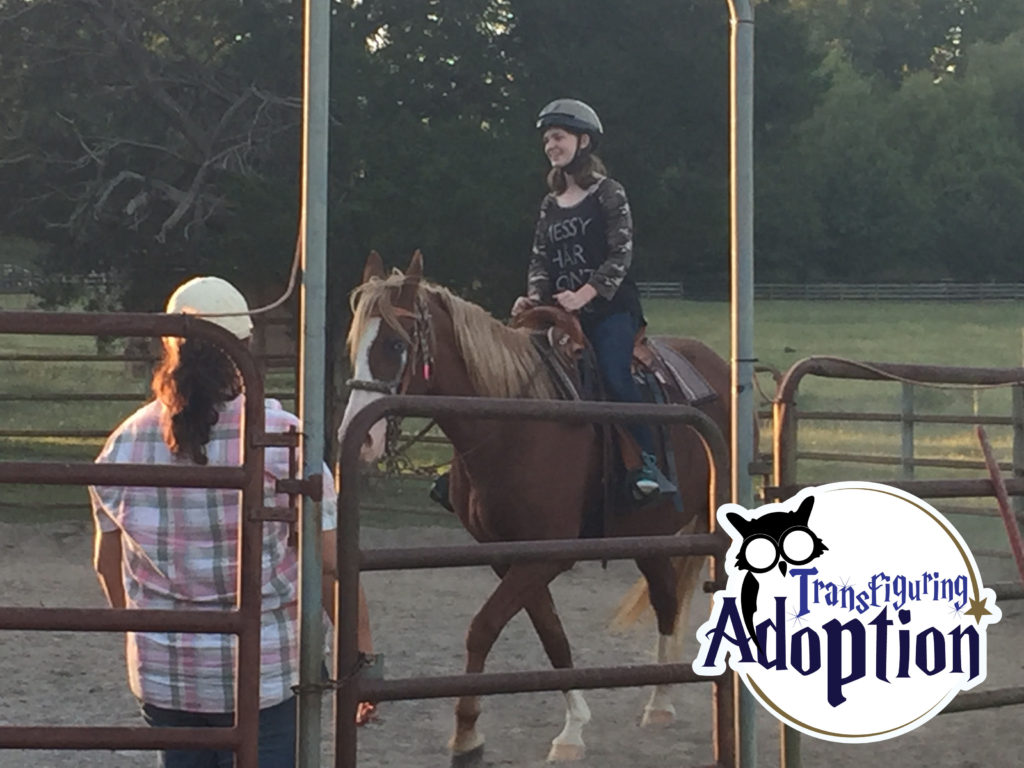 Benefits Have Our Kids Seen in EAP:
fine and gross motor skills
coordination
emotional regulation and control
balance and vestibular senses
core strength
patience
sensory processing
teamwork and cooperation
brain integration
overcoming fears
non-verbal communication
bonding
cognitive and language skills
setting boundaries
aggression versus assertiveness
being assertive
focus and attention
recognizing feelings and coping with them
trust
sequencing, patterning, and motor planning
visual/spatial perception
hand-eye coordination
creative thinking and problem solving
leadership
work ethic
responsibility
establishing healthy relationships
---