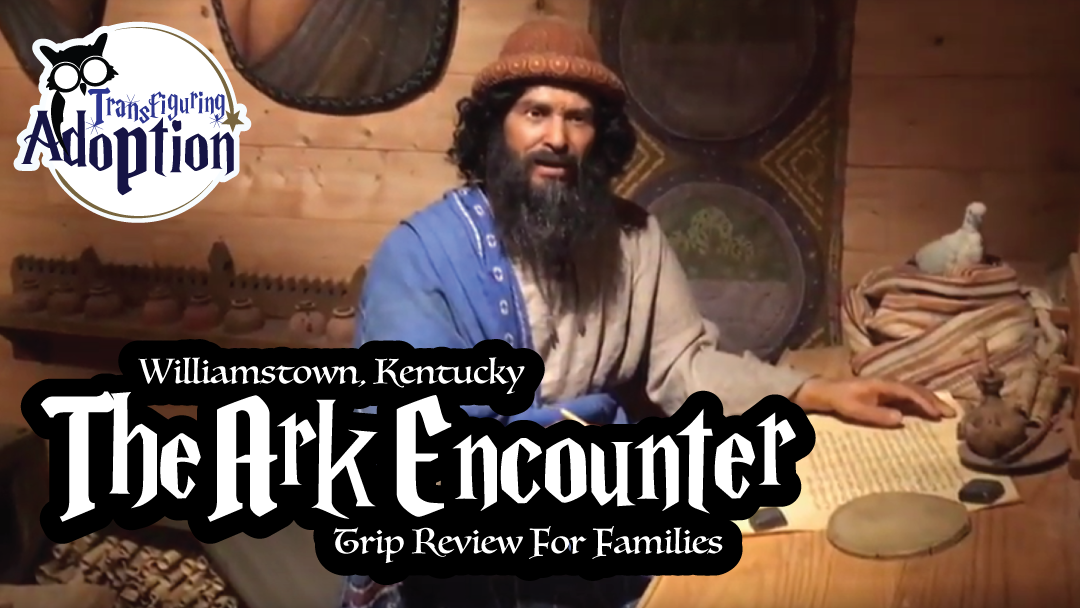 Should Your Family Plan This Trip?
As with any of our trip reviews, we believe that YOU have to make that decision for your family. However, our corresponding video is intended to show you what The Ark Encounter has to offer. We will state that our adoptive family visited the destination a few weeks after it had opened. The venue appeared to be clean and well staffed. The exhibits, restaurant and petting zoo also appeared to be well executed overall – this was not created to be simply a 'B' level destination.
Here are some of our thoughts for families (especially foster and adoptive families):
Things to Watch Out for:
 Loud Noises
From the crowds to the sound effects there will be times that your kiddo might be overwhelmed by auditory sensations. Be sure to bring noise canceling headphones if your child has sensory processing disorder.
Small and Narrow Spaces
We found there to be several areas where narrow areas or hallways created bottlenecks and crowding around certain exhibits. We would suggest preparing your children for waiting in lines and getting bumped by other people. Again this is especially necessary for kiddos with a sensory processing issue. We would also suggest bringing fidgets and gum along to help calm children in lines.
Frequent Reading
This won't be an issue for many families. However, if you have children who struggle with reading, you need to be ready to read to them. Many of the exhibits require reading on some level to take in the information.
Strong Points:
Friendly Staff
The staff appeared to be hospitable and friendly to the point that even our kids noticed their good will. On one occasion our group questioned a staff member, Carson, about directions to the onsite restaurant. Instead of merely giving us directions, he halted his errand and walked us to the restaurant.
Restrooms & "Calm-down" Spots
Restrooms are a HUGE must for a family and this venue had them in plenty. It seemed that you could locate a restroom close by in almost every area of the destination. Inside the ark the restrooms were located in the same place on each deck floor so you never had to guess where to go in the building.
Inside the ark at each end of the deck levels there were large areas with benches (and a few outlets). These areas were away from the crowds and the noise was softened a bit. These were perfect areas for a family to retreat so kids (especially with PTSD or sensory issues) could collect themselves and feel safe. It's unclear if these areas will stay or if the Ark Encounter will develop them into more exhibits in the future.
Food and Drinks
The Ark Encounter will meet your family's needs with food and drink. As you walk toward the ark there was a snack stand with drinks and snacky sweets such as kettle corn. Inside the ark on Deck 1 there was a small snack shop with fruit cups, hummus packets and many other healthy snacks and drinks. There is also a restaurant on site called Emzara's Kitchen which featured a-la-carte or quick dining. You can see more about the food options in our corresponding video. However, we would suggest foster and adoptive families to sit on the 2nd floor of the restaurant to escape the crowds and noise of the 1st floor. Weather permitting the 2nd floor balcony is peaceful and offers a wonderful view of the ark while you eat your meal.
Our family was also able to take our aluminum traveling water bottles into the ark and around the site to keep hydrated. As always, we will suggest that a foster or adoptive family to snack every two hours and stay hydrated to keep blood sugar levels steady and keep meltdowns from occurring.
How Was Your Experience?
Comment below and let us know your advice or suggestions for helping foster or adoptive families in visiting this venue.
---
*Note: Transfiguring Adoption is grateful to a donor/fan that made this trip and review possible. If you would like our crew to review a trip destination in your area, please contact:
[email protected]