Celebration of Harry Potter 2015
The second annual Celebration of Harry Potter was held January 30 – February 1, 2015, at Universal Studios Orlando. Being that we're ten hours away in Knoxville, Tennessee, this family had check marked the "Will NOT Be Attending," box in our heads. However, when we heard the line up of events on Universal Studio Orlando's blog, we decided that a trip must be made to Florida.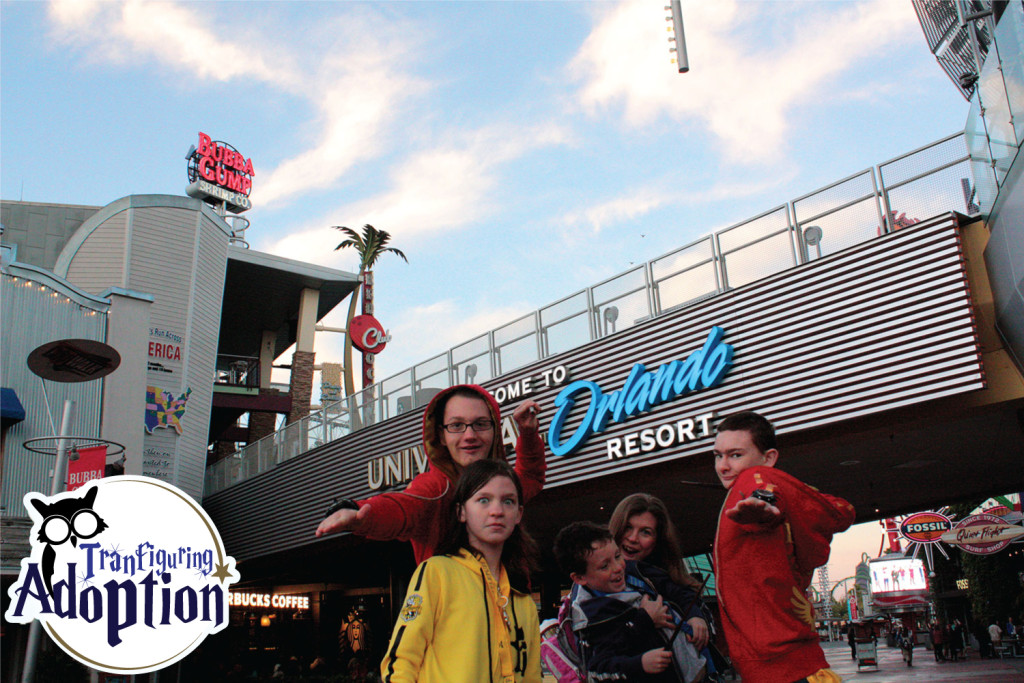 The plan was simple:
Get kids out of school early on Friday (they were all for this).
Drive for ten hours to Universal's Cabana Bay Beach Resort – arriving at midnight.
Freak out for a day and a half with the other Hogwarts fans.
Head home to get everyone to bed at a decent enough time so we'd be rested for work/school.
Here were our non-negotiables:
Interactive wands must be purchased. (I would perform magic.)
The event expo would be seen in its entirety.
Camera devices would be given to all – anything was fair game for a picture.
The wand demonstration master class would be visited.
Diagon Alley would be seen for the first time.
Escape from Gringotts would be ridden at least once.
Hogwarts would only be visited by way of the Hogwarts Express.
The Forbidden Journey would be ridden. (8 year old was FINALLY tall enough!)
One of every dessert ordered from The Leaky Cauldron
The Fishy Green Ale beverage would be sampled.
Butterbeer ice cream would be sampled.
The Cabana Bay Beach Resort
Since we only spent two nights at the resort, I don't have much to say for our stay. We literally used the resort for sleeping so we could be refreshed for more Hogwarts fun. However, we were quite impressed with everything that we saw on property. The lobby was quite big and included a gift shop with many of the popular items that you would want to buy from the parks. I could have easily done a lot of shopping right there in the hotel and not had to worry about going into stores the following days. I was also quite pleased to discover a Starbucks coffee, and the food court seemed to be nice for families. I was lastly very impressed to see that Cabana Bay has a fantastic gym. Yes. I said gym and NOT fitness room. There were quite a variety of machines for cardio and strength so that folks like myself that want to get a workout on vacation will have no problem at all. The kids were in awe when we walked by the bowling alley, I mean a bowling alley in a hotel! Come on! They thought that was way cool, along with the old cars parked out front to fit the retro theme.
The rooms themselves were also nice with a retro modern look. We stayed in a family tower room that would house all six of us. The room was outfitted with a microwave, fridge, and kitchen sink by a small bar counter. We had a small living area with sleeper sofa and two queen beds in the sleeping quarters. All in all, it was a great choice to stay on property because we were allowed entrance into the Wizarding World an hour before the general public, and we could all stay in the same room, which cut down on the hotel cost for our trip.
Celebration of Harry Potter Expo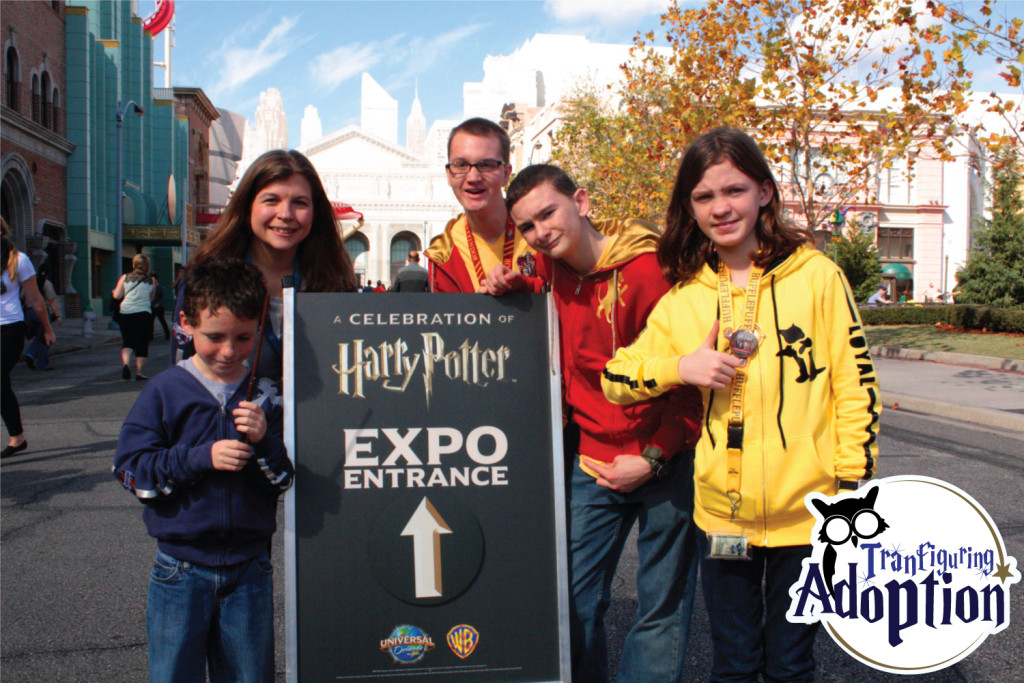 The first day of the event we made a quick run to the Escape from Gringotts ride which our daughter has covered in her own blog. Then we made a quick stop at Olivanders in Diagon Alley so that our wands could choose us. 🙂 We then felt equipped to enter the expo right after the park had opened to the general public.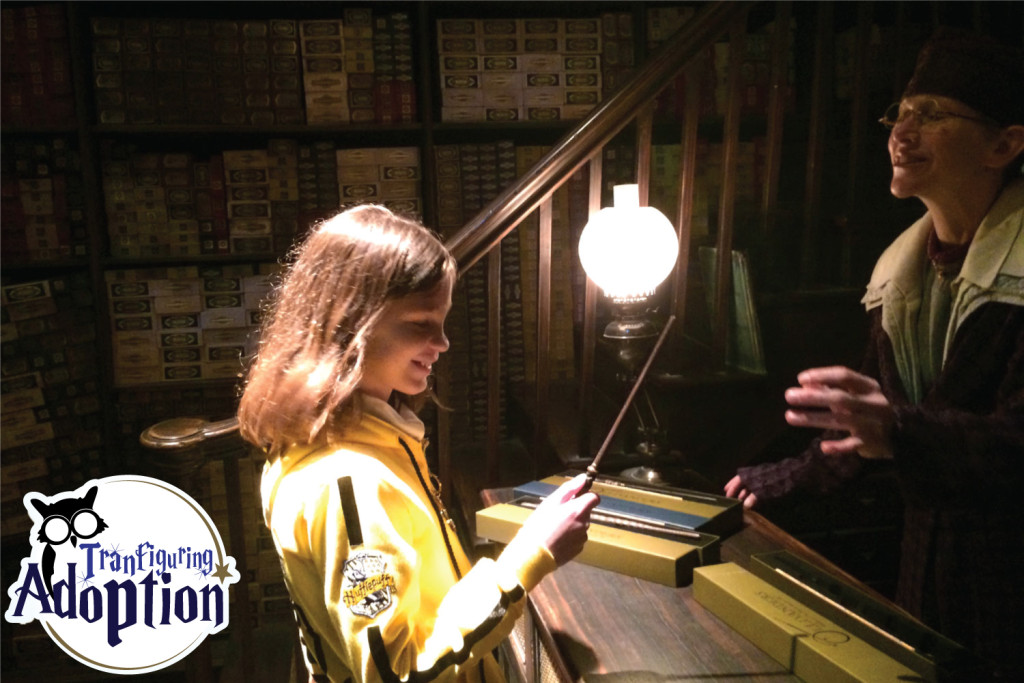 Universal chose to have two lines this year; one to enter the expo and one for the sorting hat experience. We neglected to see the sorting hat since all of us have been sorted, and it was almost an hour wait in line. However, the experience did look magical as there were flat screens all along the line asking differing houses to cheer when a person was sorted into their Hogwarts' house.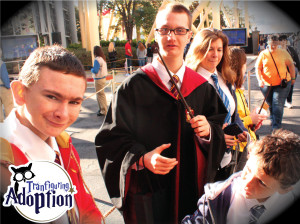 The magic spilled over into our wait in line to enter the expo building. Spirits were high as we stood in line with other folks dressed up in their Hogwarts and Wizarding World garb. A staff member came around handing out cardboard ties with the colors and emblems for your Hogwarts house; everyone was given the opportunity to support their house before entering the expo. Also, our two youngest were given presents of Wizarding World money in stylish cases. I could be wrong, but I believe they are the same cases for sale in Diagon Alley. The Universal member made their day, and it was only about 10am.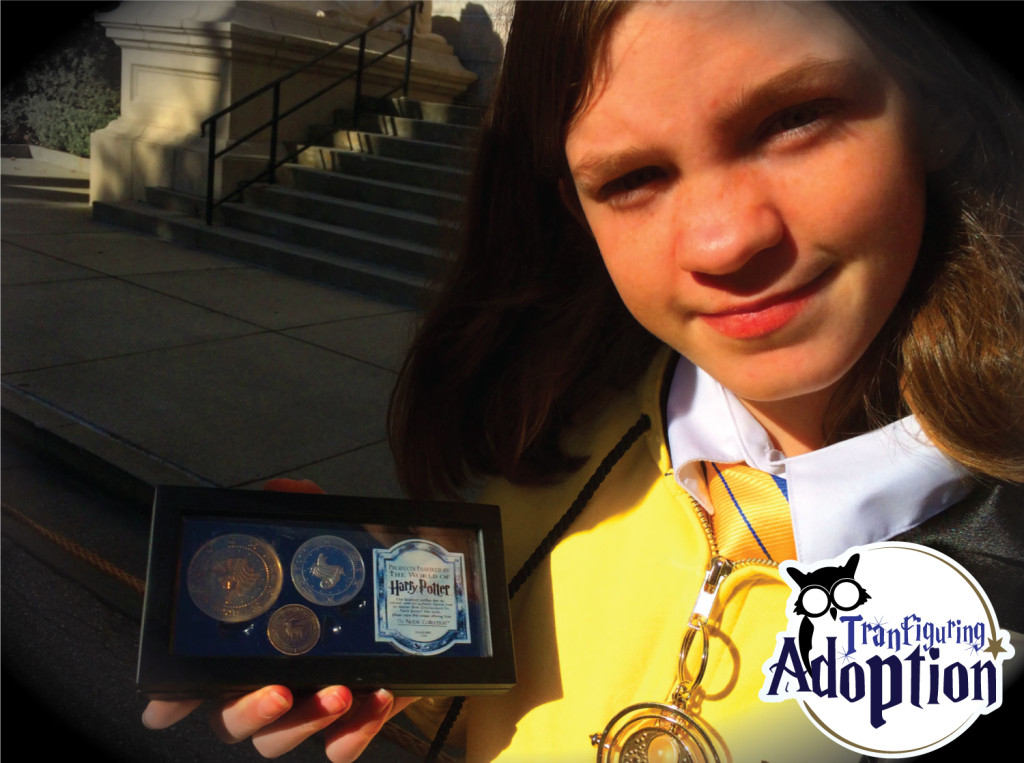 Upon entering the expo our senses were delighted as we took in the props, costumes and set visual that surrounded us.
Warner Bros. London
Warner Bros. and Universal Studios really made dreams come true and created memories for our family. We first went straight for the que so that we could get our picture taken in a set done up like the Great Hall. Before getting our fun momentos, we were given a quick tour of a case that contained props from the films. This included items such as Harry's glasses, Hagrid's umbrella, and a golden snitch.
We quickly moved to the next que to get our pictures done in scenery with a dementor and Buckbeek. The whole time we were simply amazed at the friendliness of the staff and their wanting to make the experience memorable for all of us.
Our last photo experience was a neat photo booth that imported one of three fantastic backgrounds into the photo.
Pottermore
Pottermore.com was represented at the event. The website was running their Proudest House Contest. People all over the world and at the celebration were challenged to take pictures of their house pride and post them to social media with set hashtags. The booth at the expo took part in the contest by creating moving pictures of people inside their respective Hogwarts' house common rooms. The photographers were really entertaining and helpful. Unfortunately, our houses lost but we tip our hats to those ambitious people of Slytherin house.
Meeting Great People
Of course one of the best parts of such a huge fan-based event like this was meeting all of the great people and seeing the ornate costumes. Here are a few of the people that you really need to meet on Twitter if you can't meet them in person:
Central Florida Slug Club @CFSlugClub – This crew was fun-loving and had great costumes.  They made us wish we lived in Florida.

TheChattyMomma.com (@TheChattyMomma) – We met this team giving an interview and were able to converse with them for a bit. You couldn't meet a friendlier couple and parents would do good to check out both of their sites which have invaluable resources for parents.
www.thechattymomma.com
www.fatherhood.org



@mightylauren – We never got to meet up in person, but this gal gave us the inside scoop into the event from her point of view all the way from our drive from Tennessee until we returned home. She was a great asset for us finding out schedules and plans during the event.
Orlando Tourist (@orlandotourist1) – This is another crew that was a blast to communicate with on Twitter during the event. Hopefully, we can meet up with them during a return trip. Check out their blog and follow them on twitter for some great information on the parks.
Wand Demonstration Master Class with Paul Harris
The last day of the celebration the Hogwarts Adoption, our crew chose to tread lightly throughout the day and conserve our energy for the Wand Demonstration Master Class with Paul Harris. After all, we had our new interactive wands, and we wanted to be responsible wizards by learning the proper use of them. We were pleasantly surprised to discover that Paul had brought along Evanna Lynch (the actress who plays Luna Lovegood) with him for the show. People from the audience had been selected ahead of time to make their way on stage and participate in the demonstration. Paul showed us simple movements and how it drew origins from choreography. Paul and Evanna were both entertaining and great fun to learn from during the show. The demonstration concluded with Evanna and Paul splitting up the team of volunteers into two teams and performing a fake wand duel.

If you haven't witnessed this demonstration, make plans to attend. We witnessed the adult demonstration, BUT they also put on a show for younger children.
What Did We Think?
If you're a fan of the Harry Potter series, this event is a MUST. The ages of our group were 8, 11, 14, 16, 35 and 36; All of us enjoyed a Celebration of Harry Potter. Due to our tardiness in deciding to attend, we were not able to purchase special event packages before they sold out. However, we were able to do most of the activities excluding the special evening events in the Wizarding World. Would the event package be worth it? We think so. Not only could you attend special evening sessions that included Q&A sessions with the cast from the movie, but you also received special seating in all the events.  We intend to watch for Universal's offering of this event next year. See you there.