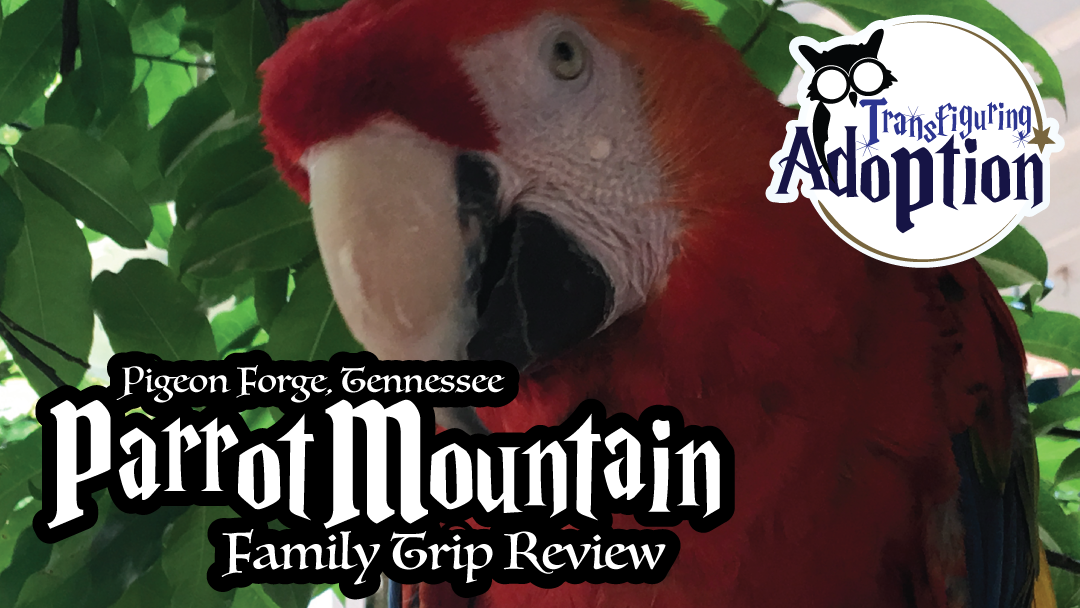 Pigeon Forge, Tennessee offers a plethora of vacation options for families. Parrot Mountain is a venue right next door to the major attraction, Dollywood. At Parrot Mountain families can view and even interact with various tropical birds. Discover the experience our adoptive family had with their children and decide if this destination is right for you.
Should Your Family Plan This Trip?
As with any of our trip reviews, we believe that YOU have to make that decision for your family. However, our corresponding video is intended to show you what Parrot Mountain in Pigeon Forge, Tennessee has to offer. The venue appeared to be clean and well staffed. The entertainment, restaurant and facilities as a whole appeared to be adequately executed.
Here are some of our thoughts for families (especially foster and adoptive families):
Things to Watch Out for:
Loud and Noisy Birds
The birds of Parrot Mountain like to put on a big show for families with their loud mouths. One parrot alone might not be a big deal for your child with sensitivy to noises but three, five, twenty or more birds together could be quite overwhelming. We suggest you prepare your child with auditory issues. Bring along your noise-canceling headphones or just plan on taking frequent breaks.
Outdoor Venue
This venue is essentially setup mostly like a zoo. If you're going during the hottest months, just know that you will be walking around outdoors most often. The area did seem to have some covering from trees. However, our crew only remembers the gift shop as being a building that was temperature controlled. The venue as a whole is gorgeous to walk through.
Strong Points:
Hands On
There is one section of the park where your family will be able to interact with the parrots as much and for as long as you for comfortable. Our family had fun talking with the birds, holding some of them and feeding them.
Knowledgable Staff
The staff know a lot about the animals at the park. Be sure to ask them plenty of questions including questions about the various tricks each parrot will perform.
How Was Your Experience?
Comment below and let us know your advice or suggestions for helping foster or adoptive families in visiting this venue.
---
*Note: Transfiguring Adoption is grateful to a donor/fan that made this trip and review possible. If you would like our crew to review a trip destination in your area, please contact:
[email protected]