Foster-Adoptive Families are large according to Simmons College's infographic…
I always got the sense that foster and adoptive families tend to be larger than most biological family households but never had actual statistics until recently. I was looking at the infographic we've been using from the social work department at Simmons College. So, yeah, 21% of the general population has 3 or more kids, but 50% of foster homes have 3 or more kids. We're probably all a little nutty, but we tend to have big hearts and want to help as many kids as possible.
Statistics are fine until you experience them…
That's all fine and dandy until you find yourself as a parent trying to deal with all the normal household duties in addition to therapies and specialists and social worker appointments, and there are more kids than adults in the household. There's something that happens when you move from offense to defense as parents…when the kids outnumber you, and you can no longer divide and conquer. Plus, your home is under more scrutiny from guests (licensing and caseworkers) who a typical household never sees.
A growing family living in a glass house.
I'm a perfectionist, and I did great taking care of the house when we went from 0 to 2 kids and I was working full time and the kids were in daycare. Then we went to a family of 6 a matter of months later, and I quit my job, and kids were always at home. All of a sudden I was feeding and cooking for a small army which often included three other children we cared for periodically. Therapists and social workers were constantly in and out of the house, so I felt huge pressure to keep it really clean. Plus, I don't function well in chaos.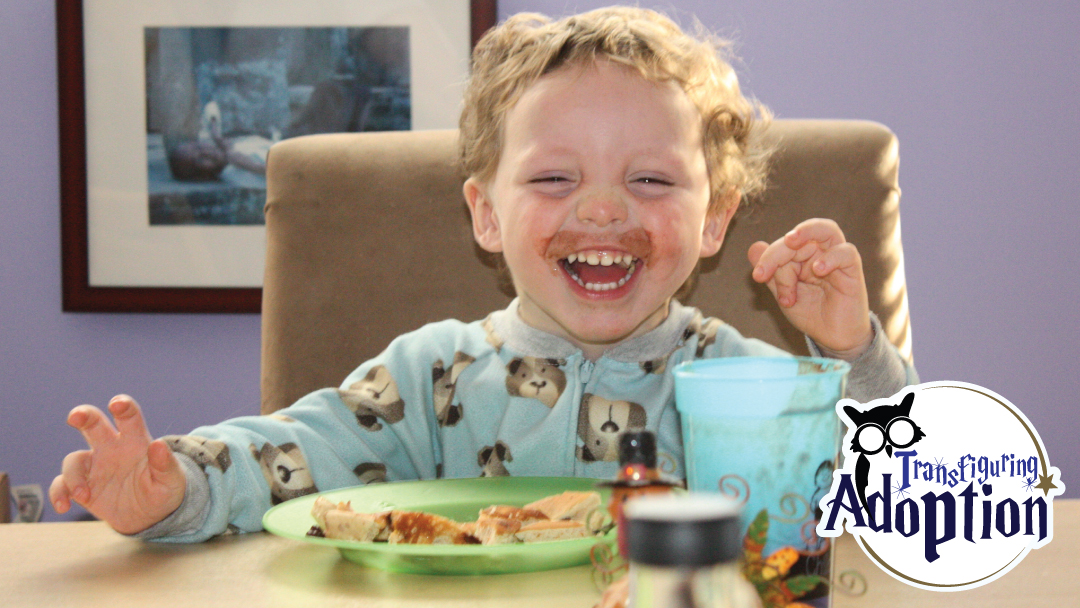 Tips to keep your foster-adoptive home functioning and clean
I had always prided myself in my organizational skills which were quickly being overwhelmed with paperwork and school papers, toys, and clothes. Over the years, I have discovered ways to ease the stress and keep our home (usually) functioning like a well-oiled machine. I will share a little of what I've learned in four major household areas.
1. Cleaning and Chores
Not long after we started doing foster care, I discovered flylady.net. It's a website devoted to helping people fight what the founder calls CHAOS—Can't Have Anyone Over Syndrome. That spoke to me. I don't always follow her system of keeping the house in order exactly, and at times I fall completely off the wagon, but I've found it very helpful. The house is broken into zones that get tackled on a schedule that ensures a deep clean of every room generally once every five weeks and light cleaning once a week. She also has links to tips and ways to set up chore systems for kids. Their rooms get broken into zones that get cleaned throughout the week. For example, on Tuesdays they go through their closets, picking up things that fell on the floor, returning empty hangers to a designated place, and so on. If they do their zones, there's no need for fussing and nagging. Anything that eases the stress on mom is a winner in my book!
2. Laundry (a chore deserving a category all its own)
Oh, laundry…the bane of my existence. As a new mom to four children, I would spend hours on Saturdays sorting laundry, turning it the right way, washing it, hanging it, and folding it. I HATED and despised it. I always seemed to get angry about everyone's balled up, wet, stinky socks and inside-out shirts and pants. The system I have now developed slowly as I first started returning any dirty items not turned the right way to the kids, making that their responsibility. (Now I just wash stuff and hang it inside out if that's the way it comes to me.) I trained them to sort their laundry. I eventually started putting their socks, underwear, and pajamas in baskets for them to pair or fold and put away.
After making the kids responsible for more, I was still spending my whole Saturday washing clothes, and things like coats or sheets were never getting cleaned often enough. Then I noted that Fly Lady recommends putting in a load every morning, coming back and switching it to the dryer later. It ends up just being a part of daily routine and getting taken care of as you can throughout the day. I used that thought to set up a schedule with the kids. Each weekday, everyone is responsible for going through and bringing a certain category of dirty stuff down to the washer. Here is our schedule:
Monday: whites and lights
Tuesday: towels
Wednesday: mediums
Thursday: sheets
Friday: blacks, navy, and jeans
This obviously takes some training, but once it's routine, it makes laundry a well-oiled machine. And the best part is I'm not doing laundry on weekends! I take care of each load as I have time throughout the day, hang up shirts, pants and dresses, and sort each person's other items into their baskets for them to take care of. The kids know that when they come home from school or at some point in the afternoon, they need to collect their clean stuff and put it away. If they don't bring it to the wash as they're supposed to, rather than getting angry, I simply go get it and later in the day calmly tell them they owe me for doing their chore for them. I don't sweat laundry anymore.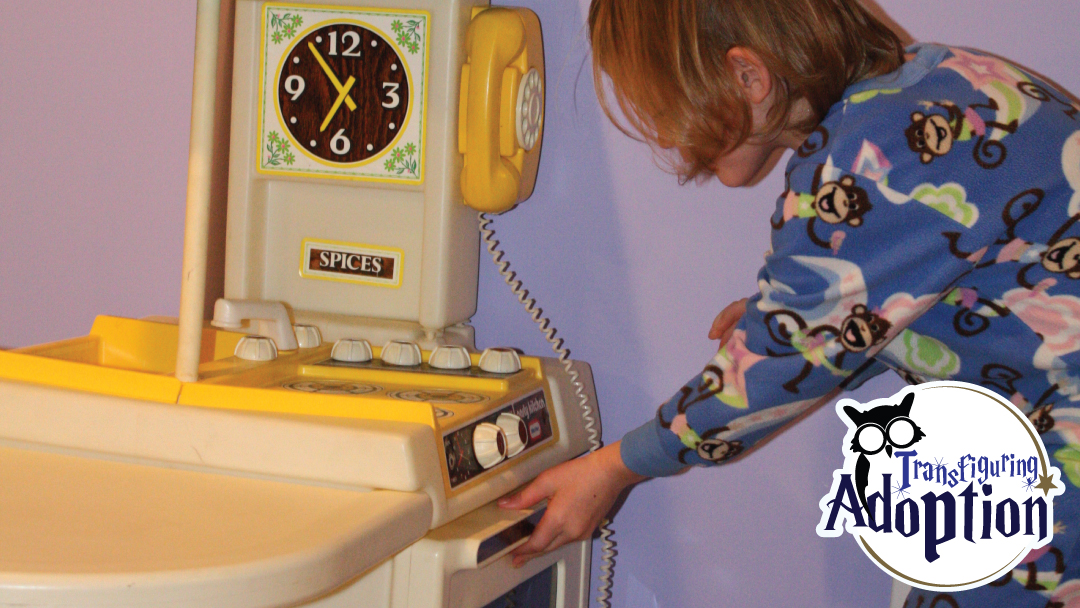 3. Cooking
On summer days when the kids are home, it seems like we go from breakfast to snack to lunch to snack to dinner prep to dessert. Feeding a large family is time consuming. I'm not one of those people who does a ton of freezer cooking, but I have found cooking ahead very helpful. A few times I've taken a whole day to load the freezer with meals and baked goods. Then I'm left exhausted and hurting from standing on the hard floor all day. What I do a lot of now is simply making a double batch or larger of a meal so that I've got some to freeze for a night the next week or so. Sometimes I'll make another meal to freeze or refrigerate as I'm making dinner. Last week I fixed taco soup one night. I filled a large stock pot with ingredients so that we'd have two dinners with plenty of leftovers. Half went in the freezer to use for a meal another week. While in the kitchen, I mixed up ingredients for two meatloaves. One went in the fridge for the next night, and one went in the freezer for a later date. In 30 minutes I had four dinners basically ready and saved myself the prep time for three other nights' meals. When I make cookies, I quadruple the batch so that I can put a bunch in the freezer. Then if we go on a trip or to an event, I've got a go-to treat pre-made. Preparing extra of certain ingredients to be used throughout several meals and making extra meals for the freezer goes a long way to saving time and energy in the cooking department.
4. Shopping and Money Management
Clothing, housing, feeding, and entertaining a large family is extremely costly, and I am not a great coupon diva (though I do some couponing). I have, however, found ways to keep our costs minimal. Here's a bit of what I do.
MyPoints.com
I love the site MyPoints.com. You get points to use for free gift cards by reading emails, shopping online, searching, referring friends (let me know if you want referred! ;-)), watching videos, completing surveys, and more. I mostly use it for shopping online. I buy online most of what I used to shop in a store for. It saves me time and gas money, and I earn loads of free gift cards because face it: I buy lots of shampoo and toilet paper. I may as well earn free stuff for it. And when I buy it online and either get free shipping or store pick up, I win!
Rewards Visa
I do not condone credit card debt (see that I follow Dave Ramsey's principals below). However, if you can practice the discipline of paying a card off completely at least monthly before any interest is incurred, a rewards credit card is a great way of earning free hotel stays, flights, gift cards, or whatever it is that saves you from spending money in other areas.
Making my own cleaning products
Yes, I am that mom who makes her own laundry detergent and glass, toilet, and all-purpose cleaners. I get a lot of my recipes from Clean Mama's free printables, which I have printed out in my Household Notebook I made using FlyLady.net. I make it all in bulk, so it doesn't take a lot of time. I cannot begin to even count the money I've saved doing this.
Taking advantage of fuel points
We shop at a grocery store that awards fuel points for money spent. When you have a big family, you spend a lot on groceries, and it's nice to be rewarded for it. I also buy gift cards there for money I'll be spending elsewhere (like for restaurants for date night or oil changes or clothing stores, etc.). Occasionally, I'll even find clothes or other household items at one of the grocery store's larger locations that has clothing and household departments.
Following Dave Ramsey
I follow Dave Ramsey's principles of money management. Darren and I were given a scholarship to take a money management course early in our marriage. It was not Dave Ramsey's course, but it was along the same veins as his Financial Peace University courses. We stick to much of what we learned and stay debt free (with the exception of our mortgage).
I may be known to go to the grocery store and use my credit card to get fuel points for buying gift cards (especially when it's 4x fuel points on gift card purchases), which I then use to shop at stores online through mypoints.com. So, I got fuel points, credit card points, and MyPoints all for the same purchase, and extra points if it's a store like Kohl's where I buy stuff on clearance and get Kohl's cash and Yes2You Rewards to get free stuff later.
What tips would you add for managing a large household?
Demystifying Foster Care, SocialWork@Simmons