Run for Families Before Hitting the Turkey & Pumpkin Juice…
Grab your shoes. Grab a friend. Grab your smartphone (for a selfie later). It's time to run to take on Transfiguring Adoption's Owl-iday Virtual 5K Challenge this Thanksgiving.
What is a Virtual Race:
A great way to challenge yourself, friends and family to get fit and have fun with other like-minded online folks all while raising money for great causes.
Run/Walk the race in one session or multiple sessions. This is great for families that have young children or children with special needs.
Run/Walk the race ANYWHERE that is available and convenient for you to run.
Run/Walk the race ANYTIME before the completion date (11/26/15).
Receive a REAL medal. Legit BLING for you to show off to family and friends.
How to Join the Crew
Register for the virtual 5K below

Opens October 1, 2015
Registration Closes December 31

Run the 5K
(It's a VIRTUAL 5K. The race may actually be run anytime and anywhere.)
Receive the REAL and sought after Owl-iday 5K Challenge medal in the mail

Our owls will be off for the holidays so medals will be sent via regular post

Join other racers on the official 5K Challenge Facebook Group
Take a selfie of you and your friends after your run, with the medal, OR BOTH. Post your pic on Facebook, Twitter or Instagram. #owliday5k
Take pride in your accomplishment knowing that you ran 5K and helped foster families.
Registration Cost: $25
    
Why Are We Running for Foster Families?
Thanksgiving is a Holiday where we all reflect on aspects of life we are grateful for but often take for granted – good friends, loved ones and family. For foster children taken from their homes, these things are merely a luxury. Due to the trauma in their lives, many foster children are likely to experience behaviors brought on by sexual abuse, PTSD, malnutrition and more. Newly licensed foster parents usually feel ill equipped to handle these behaviors so they can begin the healing process for these children.
How Does This 5K Help Foster Families?!
Every registration helps to fund Transfiguring Adoption's First Foster Placement Survival Kit program. The program provides newly licensed foster parents with a package of tools that will assist them in beginning a successful and healing placement with their foster kiddo.
AFTER REGISTRATION – ENGAGE WITH THE COMMUNITY
Come Talk with All the Runners
Join the Facebook Group [click here]
On Strava?! Join our club of runners [click here]
Post Progress or Finishing Selfies – #owliday5k
Twitter – Instagram – Facebook
@TransfigurAdopt
Tell Your Friends
Post the picture below on your social media pages
Remember to use – #owliday5k
Will your friends accept the challenge?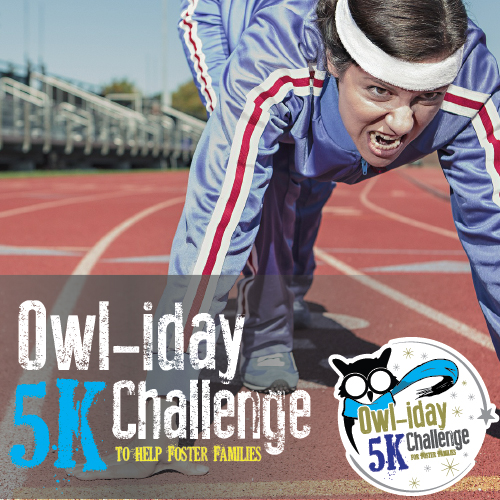 *Transfiguring Adoption (TA) is a 501(c)3 organization. TA and their volunteers cannot be held responsible for any injuries or harm caused due to or associated with running this virtual 5K. By registering for this event you are giving TA permission to use any media including pictures, video, and written content for their own advertisements in any and all media formats including Television, social media, print media, radio, E-mail, and other digital media. TA cannot be held responsible for medals that are confirmed as delivered to registrant by USPS. By registering for this event you are giving Transfiguring Adoption permission to send you e-mail updates and information concerning their program and/or future race events.*