Interview with Nathan Heck of Artrageous With Nate
Foster and Adoptive Children Without a Voice
What the general public and new foster or adoptive parents might not realize is that many children who will enter their care have lost their voice. What do we mean by that?! Children who have come into the care of a foster or adoptive parent have commonly not had their needs, requests and wants heard by adults in the past. These are the babies who cry without getting a bottle or diaper change. The kids who scream for an abuser to stop but no one rescues them. Essentially, the children who have been ignored and NOT used to being in the company of a safe and attentive adult.
Children who are in a situation like those above more than likely do not know how to express themselves properly or "normally" in healthy relationships. Why would they?! They haven't been trained or given situations to practice healthy attachments. It is imperative then that children be given a variety of ways in which to express themselves in a healthy manner.
Nate Heck. An Art Teacher To The Rescue.
While searching for a way to help teach my children learn about art techniques for home school, I (Darren) came across a YouTube show teaching about the artist Seurat and pointillism. The show, Artrageous With Nate, immediately captures the attention of my children.
The show was founded and is hosted by Nate Heck. Nate has taught art and multimedia in several different capacities and various ages. He even educates educators. While this Master's level teacher is passionate about the arts, he is also adept and very interested in how history, science and math intersect the art world. In fact during my interview with Heck his eyes appeared to beam with joy at the idea of walking into a high school where the art instructor was using his program while instantaneously the science teacher down the hall would be using the same episode.
However, before we go any further, let's get an overview of Artrageous with Nate.
Artrageous With Nate. It's All About Process, Creativity and Fun.
Artrageous With Nate is a television program that is on PBS Digital. The shows are targeted toward kids 12 to 16 years old. However, my children who were ages 5 – 11 were equally engaged with Nate during his shows. Artrageous began with full-length episodes that were close to 30 minutes in length. However, in discovering that educators longed for shorter snippets to utilize in classrooms the episodes have become shorter but still packed full of quality.
Upon viewing the Artragous program I would describe it as having four major category ingredients that are beautifully intertwined into one great show.
Art History Classroom Lesson
Each episode revolves around an artist. Kids are given historical facts and stories about the artist. This may seem like the easy section of the show. However, I learned from my interview that Nate really wants to show kids how the artist was a real person just like them. Thus, Heck sets out to find out fun facts about the artist – for example he attempted to find out if Jackson Pollock had a dog and the name of the dog. He also takes the viewer through Pollock's home to better show the artist's life.
Science Show
Just like many popular kids' science shows like Bill Nye, Artrageous finds an interesting way to engage kids about a way that our world or their body works. For example Heck teaches students on how the eye works so that pointillism dots appear to be an image rather than merely dots.
Nickelodeon Show – Wild, Crazy, Fun
As Heck told me during the interview, he strives to find a way to introduce students to a stunt that has you saying in your head, "Can they really do that?" During the Pollock episode kids zip line high about a canvas as they spray paint from super soaker type water guns to create a large spattered image just like the artist.
Creativity Assignment
During every episode Nate gives the audience an assignment that relates to the artist or theme taught about during the show. This is the BIG part of the show for your child because this is where they put their creativity into play. As the parent you will be very happy and interested to know that Heck works out of his basement office. Why?! During our interview he voiced his understanding about the expensive nature of art supplies. When he considers projects for an Artrageous episode, he looks around his basement and considers supplies that families will already have at home.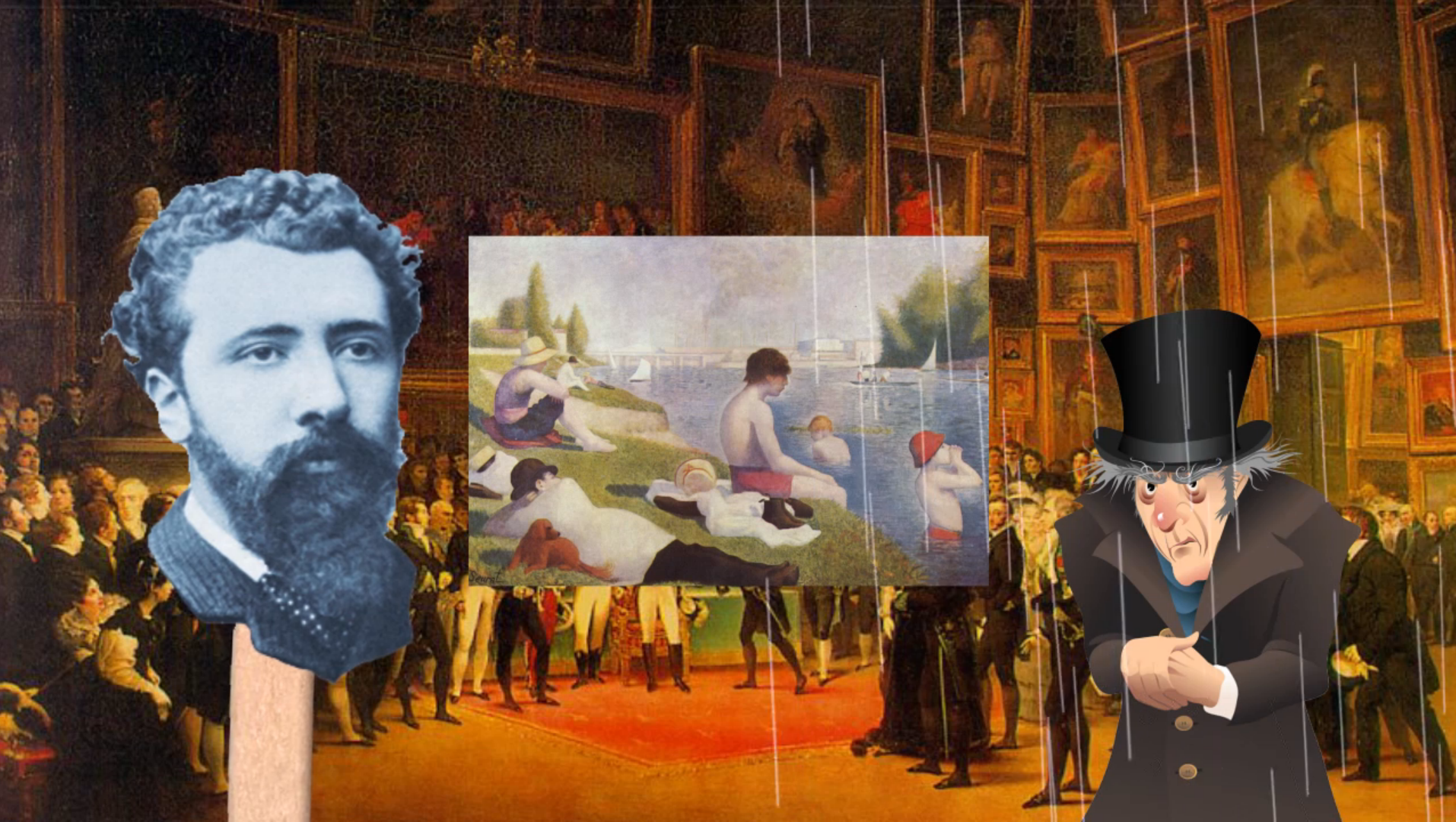 Artrageous Matters For Foster And Adoptive Families
Many would agree that children who are adopted or fostered could always use new skills or ways to express themselves and communicate with others. The arts are also obviously very therapeutic for anyone. However – why is Artrageous With Nate a great resource for your family?
It was reinforced during the interview that Artrageous With Nate gives your child a sense of accomplishment and success while learning how to be creative. Creativity, after all, is something that all of us must be as successful adults. Whether it's figuring out how to juggle your daily schedule, putting together a work presentation or a myriad of other daily tasks at home or in the office, there are a number of times that thinking outside of the box greatly aids us in our day. Thus, as I spoke with Nate I learned from him that creativity isn't just for artists. Heck even mentioned in our interview that when he speaks at a school assembly he will tell the kids that he is not there to speak to them about becoming artists. It's about learning how to think creatively.
Finally, the show allows kids to engage in something that they can't fail at. Parents have asked Heck why he doesn't present finished projects at the end of each program. Nate explained to me that as soon as he presents his own work children immediately have the expectation in their mind that they must mimic his level of artistic skill or else they have failed. Again, Heck wants your child to practice and learn the art of being creative. Consequently, as Fred Rogers is a huge influence on Nate, he actually welcomes kids to send him their artwork. Nate explained to me that he takes time to look at every picture, drawing and project just as Fred Rogers would answer letters every morning from children.
Watch Episodes. Support the Show.
Episodes can be found at:
https://www.youtube.com/user/ArtrageouswithNate/featured
Follow the Show on Social Media:
Facebook  |  Twitter  |  YouTube
Visit the website:
http://www.artrageouswithnate.com/
Nathan Heck
President & Host of Artrageous With Nate
A natural teacher with a gift for engaging people of all ages, Nate has
taught art and technology and inspired creativity
through the use of multimedia for 13 years. He is
passionate about the connections among art,
history, science, and math. Until recently, he
put that passion to work in classroom settings.
Nate has also worked in multimedia development, consulting, web
design, and design and technology. He holds a Bachelor of Arts in
Art Education & Telecommunications from Ball State University and
a Master's in Educational Technology from Indiana University.
Nate also can hold his own in the kitchen and on a unicycle, however,
not typically in tandom.