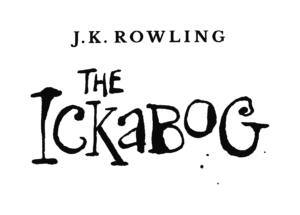 Best-Selling Author J. K. Rowling (famous for her Harry Potter series) has recently launched a new interactive storytelling adventure- The Ickabog. This fairytale marks the first foray into children's literature since the Potter books concluded, although she has written a number of adult works of fiction. What's most unique about this newest addition to her stories is the way it's being told- she is posting chapters online daily and it is entirely free to read! In addition, she is sponsoring a children's illustration contest and encouraging families to create drawings together as they read the chapters. A print copy of the book will be released in November and the illustrations will be taken from those submitted to the contest! Rowling is also frequently posting drawings on her website and social media and interacting with fans.
From the Cover of The Ickabog by J. K. Rowling:
"Written to be read aloud, The Ickabog is a fairy tale, set in an imaginary land, and is a complete stand-alone story unrelated to the author's other work. It will appeal to children between the ages of 7 and 9 but can be enjoyed by the whole family."
Because the story is free, released chapter-by-chapter and includes an illustration contest it seems like a great recipe for family bonding! Families can read the story together daily or weekly, talk about what's going on, and even draw pictures and create art together!
(The story itself and details regarding the contest can be found HERE)
We will be updating this post weekly as new chapters are released giving you our initial thoughts about the story's usefulness for foster/adoptive families and possible ideas of themes to discuss and potential trauma triggers. For those who subscribe to our Media Review Service, we will be releasing an in-depth review in July when the story concludes, including detailed sections on trauma triggers, discussion themes and even a Discussion Guide with questions to go along with each chapter! If you're interested in becoming a member of our review service head on over to the subscriptions page to view the different plan options we have available!