Adoption at the Movies
As I, Darren, was scrolling through the Transfiguring Adoption Twitter feed, I came across a person talking about a website that reviewed movies for adoptive families. I was curious to say the least, as our program encourages families to have healing conversations through various media. The tweet led me the Adoption at the Movies website that was started by LCSW, Addison Cooper. The website is chocked full of movies that are not merely films directly about adoption. Cooper has all the big name movies that are currently making headlines for your family to utilize in starting conversations and bonding closer together. I quickly sought out a conversation with Addison to learn more about this bright young man.
---
How did you become an LCSW working with foster – adoptive families?
If you would have asked Addison Cooper about becoming a social worker as a university student, you would have gotten a confused response.
"I wasn't even sure what social work was," explained Addison.
The simple explanation of being able to help people as part of the job description hooked him enough. He then sought a place where he could work more intentionally with his faith. It so happens that he ended up working for a faith-based foster agency where he has been able to meet a lot of amazing people.
"I didn't set out to work in foster care, adoption. I just kind of landed here and fell in love with the field," states Addison while explaining about his journey to his current job.
What are hurdles you see in foster care right now?
Cooper told us that there is definitely a need in the field to find more families that are willing to take sibling sets or older children into their homes.
"… and in foster care, older kids is like seven or eight," explains Cooper.
Addison believes that many people in seem to want to adopt infants and not older children due to the thinking that older children are already set in their way and behaviors. However, Cooper challenged us to think about ourselves ten years ago. Considering our younger selves even in adulthood we have changed over time and have people that have helped us to evolve our thinking and/or behaviors.
Older children are most definitely still malleable. Cooper also invokes the thought that a teenager also has quite a bit of established personality which lends itself to more of a dialogue and conversation that can be had as opposed to a younger child.
---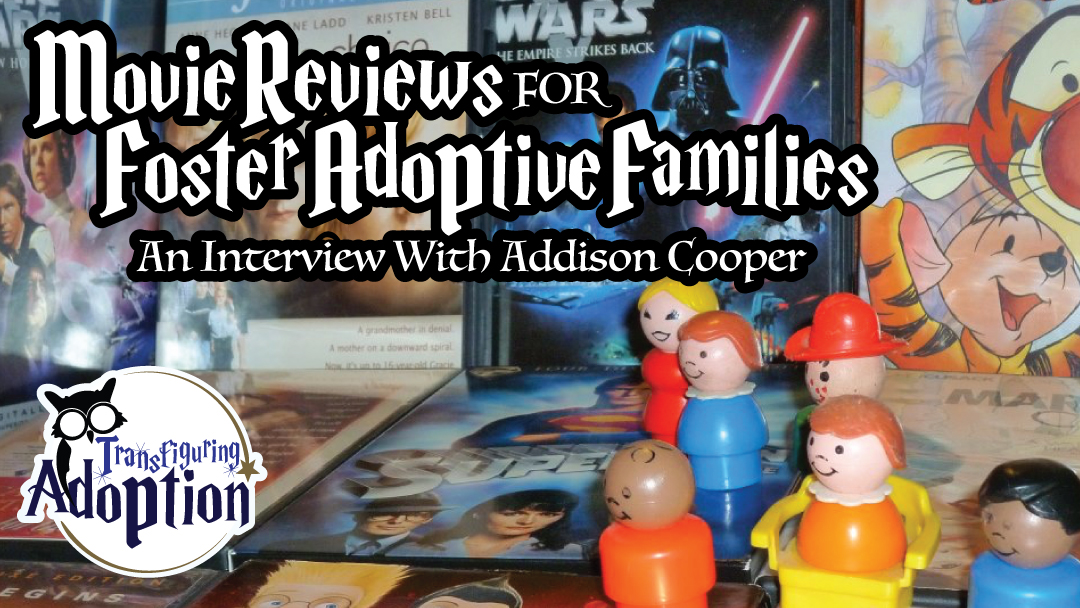 How did you start the Adoption at the Movies Website?
In 2012 Addison and his wife moved to Missouri so that his wife could complete an internship. During this year Cooper decided that it would be the year he wrote a book. Since adoption themes continually appear in movies, he had a passion to write a book on adoption at the movies.
Unfortunately the young LCSW discovered that it was not an easy road to getting a book published. He did not let this hurdle discourage him but instead turned to creating a website with a movie review blogs.
Addison recounted how valuable this time was not only for helping families but his own growth. He told Transfiguring Adoption how he had been working in the adoption community for almost 7 years at the time and felt that he had a good grasp on the subject and issues. However, his blog put him in touch with other knowledgable bloggers that opened his eyes up to new information in the adoption community about such issues as domestic infant adoption and international adoption.
Fast forward three years into staring the website and Cooper has over 200 movie reviews.
What is the process for picking movies?
It all starts with Cooper's calendar of release dates.
"…Then I try to get a sense of what group the movies are geared towards, and then taking a look at the plot to see if there are some family themes. Family themes are going to be relevant to adoptive-foster families because they are families. Adoption isn't the only issue that an adoptive family deals with." explained Cooper.
Addison also told us that initially his list was simply started when he asked his coworkers about relevant movies for adoptive families. His fellow workers will able to give him over 100 movie titles they felt he should review.
What does the critiquing process look like?
It obviously begins by watching the movie.
"…I take notes while watching a movie. It's actually a skill I picked up doing home studies. You get used to making eye contact while taking notes at the same time…"
Cooper then usually writes out the plot and observes the themes in the movie from his notes. He reports to parents the themes that seem to be healthy for adoptive children and those that might cause harmful triggers and behaviors. The last part of the process is doing some mental math to assess whether the film would be great for adoptive families, something they should steer clear from, or possibly it's a film that family's could watch as long as they are aware of triggers ahead of time.
What is the end goal?
"My goal is that families would be able to access hard conversations about adoption issues…. They're probably conversations that need to happen but they just have no idea how to start."
While the main goal for the site has always been to help families have conversations about real life issues through movies, Cooper admits that he has discovered a second goal along the way. Consequently, it appears that many families use the site to discover what events in a film might trigger their child.
---
What is the must-see movie from 2015 for foster-adoptive families?
"Inside Out. It's such an emotionally intelligent movie. It shows that sadness is a valuable emotion and the value that sadness has in a healthy life. The characters are colorful and bright… It [Inside Out] gives kids a real way to identify how they are feeling and to accept the way they're feeling and talk about how they're feeling."
[read Cooper's InsideOut review]
Cooper also told us that families are going to want to keep an eye out for the upcoming Kung Fu Panda 3 movie.
What is this movie critics favorite movie?
"It's one that I've never reviewed on the site and I don't know if I will either. The Princess Bride. Every line in it is a classic."
---
How to discover Adoption at the Movies for yourself
We suggest keeping an eye on the bookshelves.
About Addison Cooper: Cooper, MSW, LCSW is a
Licensed Clinical Social Worker in Missouri and
California. Addison is a clinical supervisor in
the field of foster care adoption. He has
published 20 articles and chapters in magazines
such as Adoptive Families, Foster Focus,
Adoption Today, and MORE. Cooper currently
lives in Pasadena, CA with his wife.