Grade:

Transfiguring Adoption awarded this movie 4 Hoots out of 5 based on how useful it will be for a foster/adoptive family. [Learn more about our Hoot grading system here]
---
Movie Info:
Rating:

PG-13 (Suggestive References, Some Language)

Genre:

Musical

Runtime:

143 minutes

Studio:

Scott Sanders Productions, Warner Bros., Likely Story, 5000 Broadway Productions
---
From the Cover of In the Heights (2021) by Warner Bros.:
"The creator of "Hamilton" and the director of "Crazy Rich Asians" invite you to the event of the summer, where the streets are made of music and little dreams become big… "In the Heights." Lights up on Washington Heights… The scent of a cafecito caliente hangs in the air just outside of the 181st Street subway stop, where a kaleidoscope of dreams rallies this vibrant and tight-knit community. At the intersection of it all is the likable, magnetic bodega owner Usnavi (Anthony Ramos), who saves every penny from his daily grind as he hopes, imagines and sings about a better life. "In the Heights" fuses Lin-Manuel Miranda's kinetic music and lyrics with director Jon M. Chu's lively and authentic eye for storytelling to capture a world very much of its place, but universal in its experience."
---
---
Transfiguring Adoption is a nonprofit organization seeking to nurture growth in foster and adoptive families by giving a HOOT about their families. Transfiguring Adoption does not intend for its reviewers nor its reviews nor in this discussion packet to be professional, medical or legal advice. These reviews and discussion guides are intended to help parents to better be able to connect and understand their children who come from traumatic backgrounds.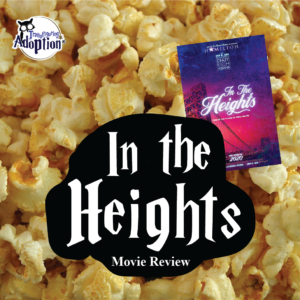 ---