Grade:

Transfiguring Adoption awarded this movie 3 out of 5 hoots based on how helpful it will be for a foster/adoptive family. [Learn more about our Hoot grading system here]
---
Movie Info
Rating: PG
Genre: Drama
Runtime: 109 minutes
Studio: TriStar Pictures
---
From the Cover of It's a Beautiful Day in the Neighborhood by Tristar Pictures:
Lloyd Vogel is an investigative journalist who receives an assignment to profile Fred Rogers, aka Mr. Rogers. He approaches the interview with skepticism, as he finds it hard to believe that anyone can have such a good nature. But Roger's empathy, kindness and decency soon chips away at Vogel's jaded outlook on life, forcing the reporter to reconcile with his own painful past.
---
---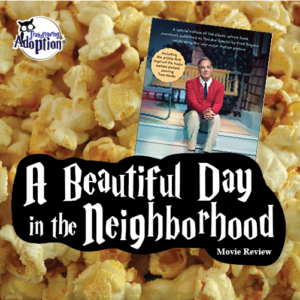 Discussion Guide:
1. How do you think Lloyd could have reacted better at his sister's wedding when we saw his dad?
Caregiver Note: Lloyd's anger at his father for abandoning his mother was justified, but his reaction to seeing his father was inappropriate. Anger is a normal emotion but how we express it is important. This is a great way to help your children understand appropriate ways to release their…