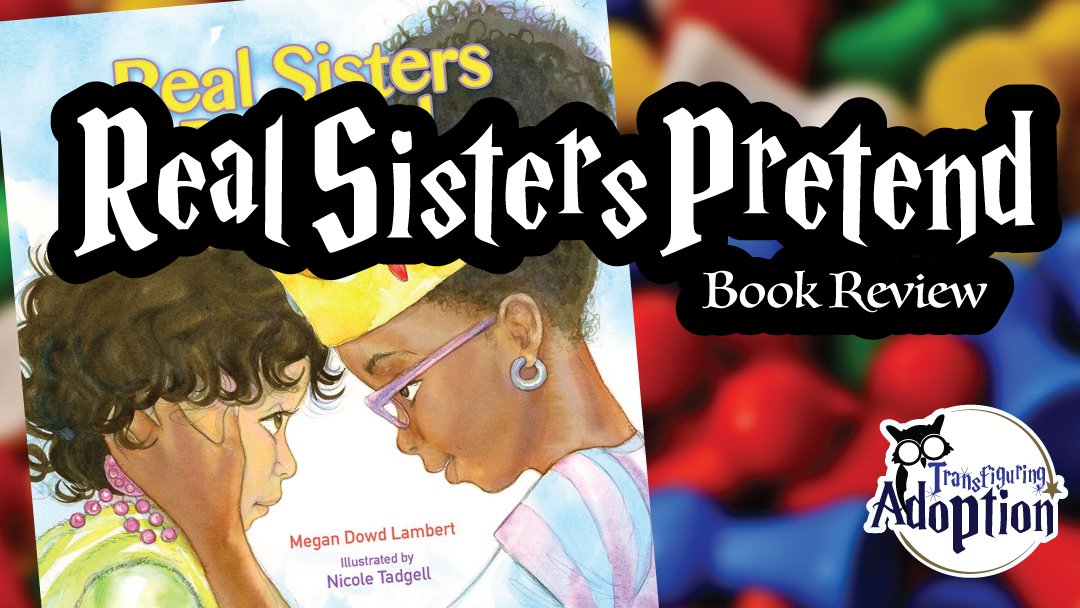 From the Cover of Real Sisters Pretend by Megan Dowd Lamber; Illustrated by Nicole Tadgell:
"Mia wants to pretend that she and Tayja are princesses, and Tayja agrees – as long as they can be hiking princesses. The sisters' imaginations lead them up and down mountains in a perilous journey with their mighty lion protector. As they play, Mia and Tayja confirm that there's one thing they don't have to pretend: They know in their hearts that they're real sisters, even though others don't always recognize this since they're adopted and don't look alike. Safe in the knowledge that adoption has made them "forever family," the sisters end their make-believe journey with a joyful homecoming to a real home with their two moms."
Grade:
Transfiguring Adoption awarded this book 5 Hoots out of 5 based on how useful it will be for a foster/adoptive family. [Learn more about our Hoot grading system here]
What Our Family Thought:
The target audience for this book appears to be for adoptive families. The book appears to especially fit nicely for those families where one or more adoptive child is of a different race. The book also appears to be written for kids ages 4- 9. However, as is common for children from traumatic backgrounds, it could be possible that older children who are mentally/emotionally younger than their chronological age will be actively engaged in this tale.
The illustrations in this book seem to be very intriguing for elementary aged children. The pictures appear to keep the story moving fluidly and seem to help children immerse themselves into the story with the colorful images.
As the description above states, this book centers around two adopted sisters as they play pretend together. During play they speak about the issue of their physical appearance making it apparent that they are not from the same birth family. This leads to the girls having insightful dialogue about what it means to be family and real sisters.
We believe this story allows a serious conversation to be had in between a fun game of pretend that the girls share. It seems to be a great ice-breaker book for a caregiver to broach the subject or "elephant in the room" of individuals in the family not all being of the same race.
Overall, this book seems to be a great tool for parents to utilize. Not only does it allow for healthy conversation with your child but it's simply a great story to read before bedtime or any time.
Buy From Our Links and Support Transfiguring Adoption:
It's Your Turn:
The girls pretend to be hiking princesses. What do you like to pretend?
Why does Mia think they have to pretend they are sisters?
Why didn't the lady at the grocery store understand about adoption?
What does adoption mean? Does it make you family?
What do families do together? Do they protect each other? Do they stick together? Do they love each other?
What do you like about your family?
---