Hi. I am Jasmine…
If you haven't read my blog before, I am eleven years old and an adoptive child. I used to be in foster care but was adopted.
The Leaky Cauldron in Diagon Alley
I want to tell you about my trip to the Leaky Cauldron [restaurant in Diagon Alley at Universal Studios Orlando]. If you don't know this, the Leaky Cauldron is a restaurant with amazing food. I thought The Leaky Cauldron was really fun. You con even see the cauldron that the restaurant is named after. [The cauldron is large and cracked and sitting in a fireplace by the front of the restaurant.]
What happens inside the restaurant?
Enter through the front door and wait in a line.
A hostess asks you how many people are in your party.
The hostess directs you to cash register.
A friendly cashier takes your order and even explains the meals to you.
After paying, the cashier gives you a candlestick with a number on top.
You put the candlestick on your table so that the waiter/waitress knows where to bring your food.
Once the food is brought to your table you get to enjoy the yummy food.
How was the food?
[My brother] liked the Fish 'n' Chips. He got two battered pieces of fish and a pile of fries. That's right. Chips are actually sliced up potatoes. I call them fries 🙂 I didn't like the Fish 'n' Chips though.
My dad liked the Fisherman's Pie. A Fisherman's Pie is a mixture of fish, shrimp, and mashed potatoes mixed together into a bread crust. I liked the shrimp – I REALLY like shrimp.
The Leaky Cauldron also has desserts. The desserts we tried were Sticky Toffee Pudding and Potted Chocolate. They were all wonderful! The potted chocolate was the best. It tasted like pudding! If you go here, you must try at least one of these deserts!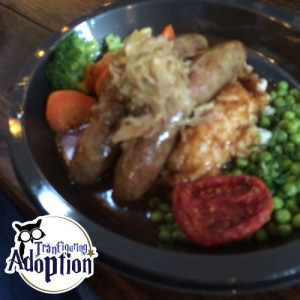 Also, there are hidden things in there. If you look closely, you might find an owl or here foot steps up stairs. You should take your time to look around while you're eating and listen to all the surrounding noises.
I also suggest going to the Hopping Pot, the Three Broomsticks, and Honeydooks. Have fun and good luck! – Jasmine F.