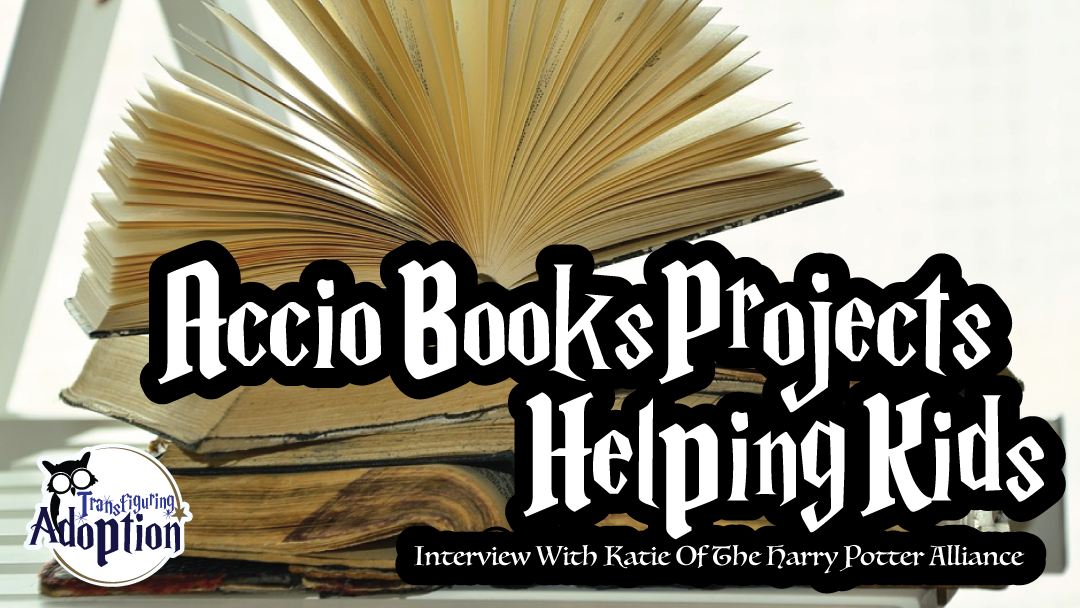 The Power of Books
Transfiguring Adoption believes that books and other media are an excellent way for not only children but anyone to work through trauma and past issues. There is simply something therapeutic about getting away from your own real troubles but seeing them play out on a fictional character.
Families, children, and adoptees have often told us at events that Transfiguring Adoption's discussion guide helps folks because people can relate to Harry Potter or another character in the book. It is then easier to talk about a character's issues rather than dwell on your own.
Foster and Adoptive Families Should Know about the Harry Potter Alliance
The Harry Potter Alliance is an organization that seeks to turn fans into heroes. They help resource their local chapters throughout the world and spread information so that everyday fans like you and me can not just wish to help but actually begin to solve the world's problems.
There are so many times as a foster or adoptive parent that you may be focused on solving the issues caused by past trauma in your kiddo's life that the family unit neglects to think about how they can help other folks in the world. Again, we believe there is power in the useful tool of books. This project has the chance of not only positively affecting the lives of children in the States but keep reading to see how you can make a HUGE impact in the lives of children just receiving the resource of a library.
The Accio Books Project
The HPA website has this to say about Accio Books:
"Since 2009, this annual worldwide book drive has given over 250,000 books away to communities in need. This year, we're [HPA] doing something special.

In 2015, our Masaka HPA chapter worked with leaders and volunteers in their community to build Good Shepherd School, a co-educational school for 250 young people in Masaka's rural area.  This year, they plan to open a library – and we're [HPA] going to stock it.  That's right!  Wizard Activists will send thousands of books and school supplies to the school in order to stock its brand new library. We'll also be working with three awesome organizations – Books for Africa, the Literate Earth Project, and Out of Print Clothing – to maximize our impact and make sure that Good Shepherd gets a great mix of fiction, nonfiction and academic resources!

Stocking a library in a school our chapter helped build is a big deal – but we're not done yet!  We want to use Accio Books to advocate and celebrate! Once again, we're partnering with the American Library Association to advocate for increased support for public libraries.  We have all the resources you need to participate down below!  We're also partnering with Book Riot to host events to honor World Book Night in three major cities – and we've even got a toolkit for you to host your own!"
Join The Cause