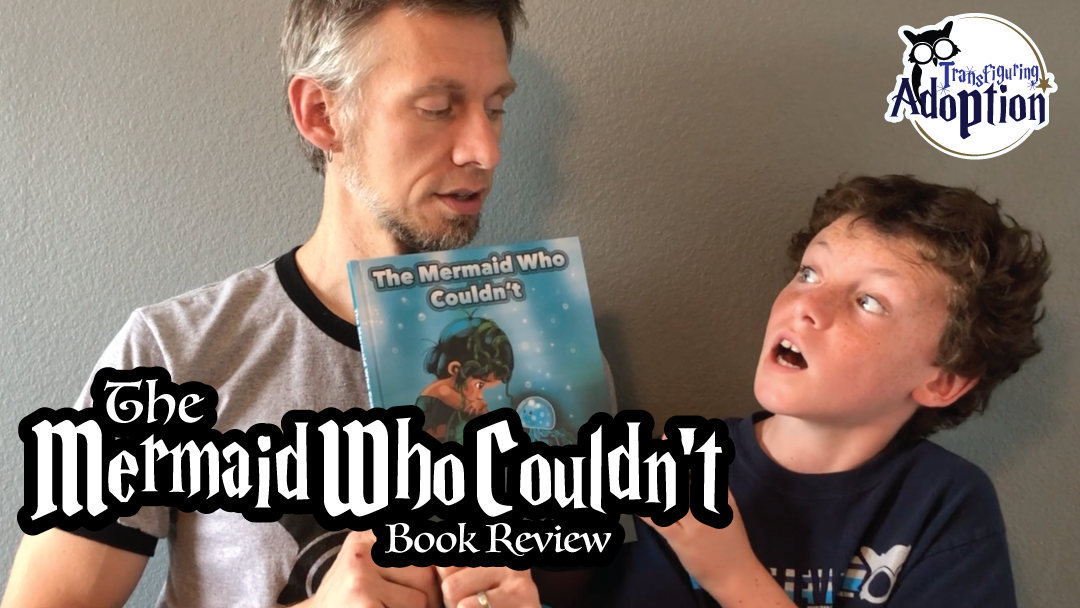 From the Cover of The Mermaid Who Couldn't by Ali Redford:
"'I am a useless mermaid,' Mariana thought, 'I can't do anything.'
Mariana is not like the other mermaids. Abandoned by a careless mother on the ocean floor, she has never laughed or played, she can't sing and can barely even swim. Then she meets a turtle called Muriel, who welcomes her into her family and shows her all the things she can do.
Written for children aged 4 to 9 and beyond, this picture book shows how children who lack confidence can learn to find a sense of self-worth."
Grade:
Transfiguring Adoption awarded this book 4 Hoots out of 5 based on how useful it will be for a foster/adoptive family. [Learn more about our Hoot grading system here]
What Our Family Thought:
The target audience of this book appears to be the general public and targeting children ages 4 through 9 years old. With the current popularity of mermaids children younger and older could be read this book – though children younger than 4 will more than likely not be able to see the comparisons which can be drawn from the story and the foster care or adoption world.
Even though this story may not have been written directly to foster and adoptive families, the theme of self-confidence and self-worth is one that foster/adoptive children deal with in a large way. The author, Ali Redford, is herself an adoptive mom and knowledgable on this theme from a caregiver's perspective.
The illustrations of the story are quite rich and full. They will surely transport your family into Marianna's world. The images help children to discover emotions and thoughts that are being conveyed in the story. It seems that the images really help a family move through a well-told story and tackle some abstract thoughts/emotions.
Caregivers will appreciate this story as it showcases a turtle named Muriel, who acts as a foster or adoptive mom to the little mermaid, Marianna. The book does a good job of portraying Marianna before Muriel takes her through a process of improving her self-confidence, as well as doing a good job of showing that Marianna may have touches of feeling unworthy from time to time even after going through her journey.
Overall, Transfiguring Adoption finds that this book will be an entertaining story for your family to enjoy. Our grading system requires a piece of media to directly address foster or adoptive families in order to get a perfect score, which is the only reason why the story did not earn a perfect score. This story is in fact a powerful tool which can begin needed and healthy conversations with your foster or adoptive children. Your family will do well to purchase this resource as a way to bond and connect with your child.
---
Buy From Our Links and Support Transfiguring Adoption:
---
It's Your Turn:
What were things that scared Marianna?
Why was Marianna scared?
What did Muriel do that made Marianna feel loved?
Is Marianna worthless? Why?
What does Marianna do when she starts to feel bad about herself again?
Do you ever feel bad about yourself? Why?
What are you good at? What do you like to do?
Who are people that remind you about how special you are when you feel bad about yourself?
---