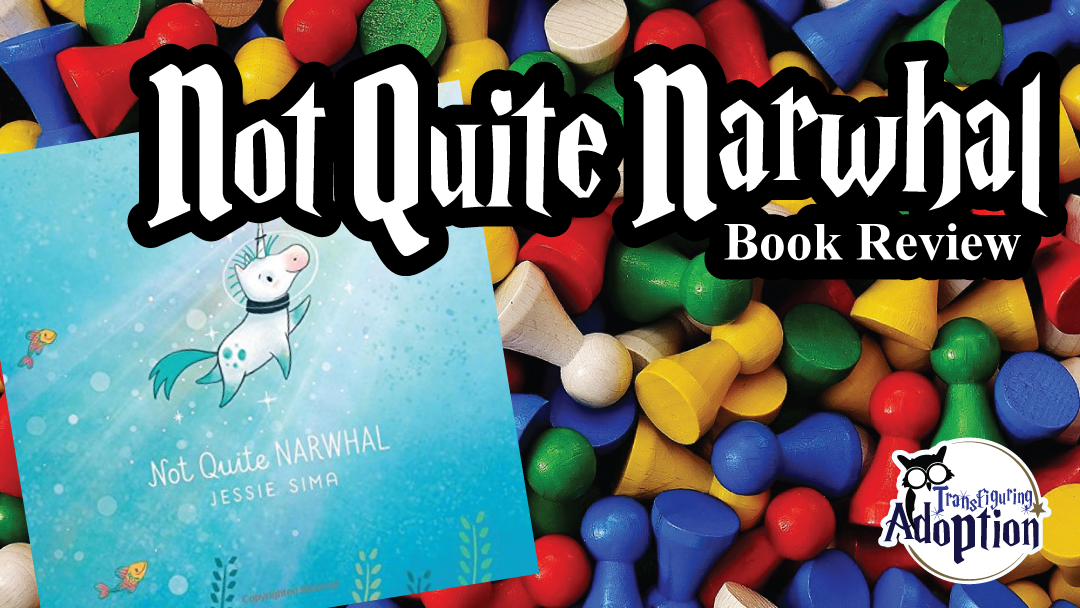 From the Cover of Not Quite NARWHAL by Jessie Sima:
"This is Kelp. He doesn't mind being a little different from the other narwhals. But when a strong current carries him away, Kelp encounters some mysterious, sparkling creatures who leave him wondering if maybe… just maybe… he isn't a narwhal at all."
Grade:
Transfiguring Adoption awarded this book 4 Hoots out of 5 based on how useful it will be for a foster/adoptive family. [Learn more about our Hoot grading system here]
What Our Family Thought:
The target audience of this book appears to be the general public and targeting children ages 4 through 8 years old. Although this tale doesn't specifically target foster or adoptive families, these families will be interested in this story as the main character lives with an adoptive family and deals with feeling different than his adoptive family and finding his identity.
The illustrations contain colorful cartoon characters which are reminiscent of '90s cartoon shows. Sima's style throughout the book is strong and effectively conveys the emotions of the story which help to engage you child and keep their attention. The illustrations of the book will surely make your family fall in love with it's characters.
The main character of this story is Kelp, a unicorn who lives in the ocean with his narwhal family. Through the tale Kelp is dealing with the fact that he is noticing how he differs from his family. A strong current causes Kelp to go to the surface where he discovers other unicorns ("land narwhals"). The story allows Kelp to then experience creatures that are similar to him, but at the same moment Kelp must cope with the fact that he dearly loves his family.
This book will allow your family to have healthy conversations about the definition of a family. Foster and adoptive families will be able to use this story as a way to show children that they can show love and loyalty to BOTH their caregivers and biological family. The book does paint a very rosy and ideal image of the "biological" and "adoptive" family getting along for a huge party – caregivers may find the need to explain to children that while they don't have to "choose sides," real life may not always look so ideal.
"Not Quite NARWHAL" is a quality story which will be an asset to your foster or adoptive family as you seek to discuss emotions and questions which come up during foster/adoptive journey.
---
Buy From Our Links and Support Transfiguring Adoption:
---
It's Your Turn:
How did Kelp feel about being different than his family?
Why was Kelp anxious about leaving the ocean?
Have you ever been nervous or anxious about doing something for the first time? What?
How did Kelp feel with the unicorns (land narwhals)?
Why did he want to go back to his old friends?
Which world did Kelp have to choose to be a part of?
Do you ever feel like you're a part of two worlds?
How do you feel like Kelp in those worlds?
---