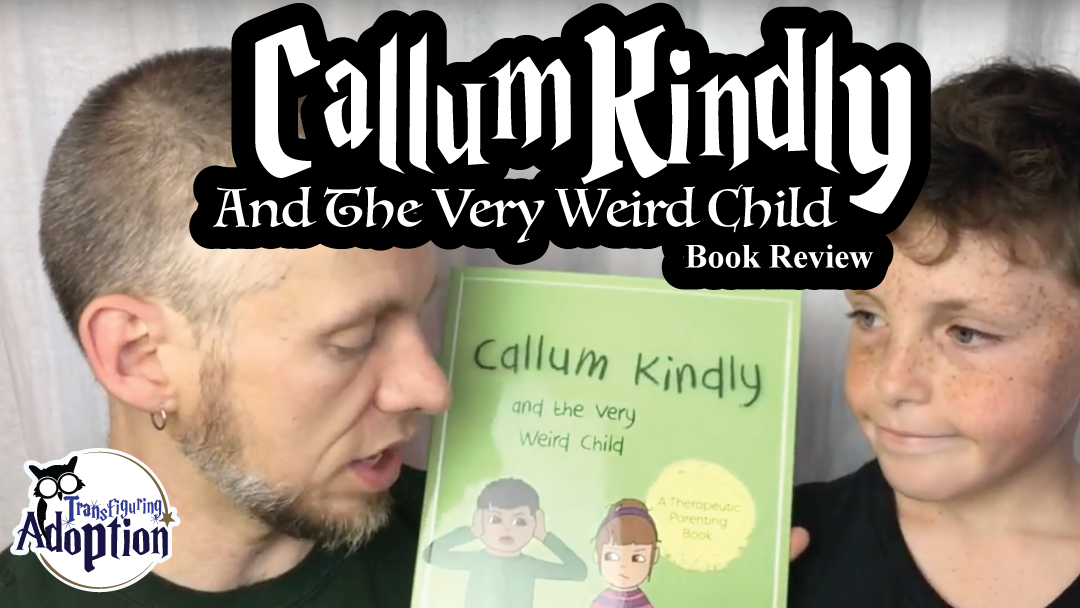 From the Cover of Callum Kindly And The Very Weird Child by Sarah Naish and Rosie Jefferies:
"Callum Kindly is a kind and caring boy who lives alone with his mum. That is, until Katie Careful comes to stay with them. Callum thinks Katie is a very weird child!

Katie manages to get in the way whenever Callum wants to speak to his mum or have snuggle time. She cries and sulks on his birthday and she steal his toy car. Luckily, his mum can explain to him how Katie's difficulties when she was growing up means she acts differently now."
Grade:
Transfiguring Adoption awarded this book 4 Hoots out of 5 based on how useful it will be for a foster/adoptive family. [Learn more about our Hoot grading system here]
What Our Family Thought:
The target audience for this book appears to be for foster families and written for kids ages 3- 10. While many tales from this series are told from the point of view of a foster child, this story is told from the point of view of a biological child welcoming a foster child into the family. Thus, this book appears to be a good fit for families with children who will be experiencing the changes and challenges that go along with welcoming a new foster child into the home. We appreciated that the family portrayed is a culturally mixed family unit with a single mother of color, her biological son, and a young caucasian foster daughter.
The illustrations in this book are adequate for communicating the concepts and ideas – the book notes that the illustrations have been deliberately left simple to help children focus on the story. The pictures should keep your child engaged throughout the story.
As was mentioned above the tale centers on the life of Callum Kindly as he experiences challenges and changes to his single parent home when the family welcomes a foster daughter. The story will be very true to the emotions and events of many children as Callum's excitement for welcoming a child quickly turns to frustration. Callum experiences a prized toy being taken without permission and broken. Callum also seems unable to get personal time with his mother as the new foster daughter doesn't seem to allow him to spend time alone with mom.
Transfiguring Adoption appreciates that this book, as the others in the series, contains a message to parents at the end of the book. The message effectively and simply teaching you, the caregiver, how the story illustrates various needs and emotions in the story. More importantly you are told how to significantly impact your biological, foster and/or adoptive child's life in situations similar to the story.
Transfiguring Adoption overall finds this book very applicable and fun for a foster or adoptive family. It will surely create an atmosphere where your children can talk about their emotions and thoughts effectively with you, the parent.
Buy From Our Links and Support Transfiguring Adoption:
It's Your Turn:
Why do you think Callum wanted to help a foster child?
Why do you think Katie took Callum's new birthday present?
Why do you think Katie broke Callum's car?
What do you think makes Callum feel better in the story?
Are you ever angry or sad toward a new child in the home? When?
---